Newborn smocked outfits have allured for generations. Their comfort for babies is essential, especially when we talk about newborn baby clothes. 
Smocked clothing has been a beloved choice for babies and young children from centuries. 
A smocked outfit can be worn on many occasions, such as baptisms, weddings, birthday parties, family gatherings, special events, or everyday pursuits. Its timeless and innocent style adds an extra touch of charm to our kids' department.
These smocked dresses for girls & boys are usually the best gift the family gets during pregnancy. After all, this adorable smocked fashion is meant to be worn during these fleeting moments in their lives.
Adorable Newborn Smocked Outfits
We understand that children have plenty of time ahead to embrace grown-up fashion, but for now, let's cherish this brief phase and let them relish in the joys of dressing like children. 
Our collection of newborn smocked outfits has everything you need to dress your little ones in delightful smocked outfits.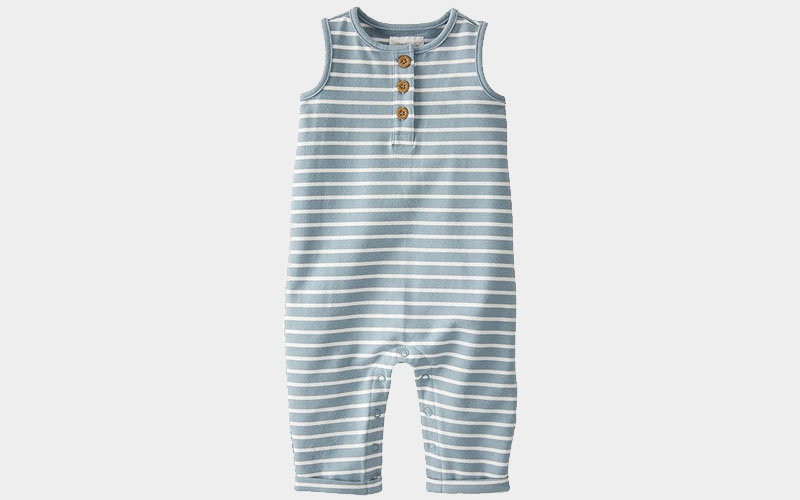 A smocked romper like this will provide your little one with comfort as he crawls indoors or plays outdoors. Choose any size between 9 months to 2 years, your tot will look so sweet in this dress.
For ease of changing, this smocked romper has French Terry pieces, front buttons, and snaps at the legs. The stylish striped pattern adds an extra touch of style.
Whether it's a casual day out or a special occasion, your little one will steal hearts with his adorable style designed to keep gentlemanly cozy, with charming smocked details.
| Most liked feature | What I didn't like |
| --- | --- |
| Machine washable | Bit thick heavy cotton but breathable |
| Easy to wear with front buttons | |
| Made with 100% organic cotton | |
Let your baby girl bask in the joy of summer with this casual and sleeveless smocked dress. It has a snap closure and is lined with cotton for a comfortable fit.
Ideal for sunny playdates and family outings, this dress keeps your baby cool and stylish throughout warm days. Make her shine like a little sunflower in this lovely summer-smocked dress.
Easy to put on and the buttons in the diaper area allow easy diaper changes. Smart use of straps that can be tightened as needed and are out of any potential danger to the baby. 
| Most liked feature | What I didn't like |
| --- | --- |
| Backless strap adjustment | Material is not stretchable |
| Easy for babies to change diapers | |
| Super soft and breathable | |
| Cute and adorable | |
Golden tip: 
The tip for buying a smocked outfit is to pay attention to the elasticity of the fabric in the collar so that they do not fit too tight on the baby's head.
Always consider two factors: the comfort for your baby and the practicality you will have daily. After all, the outfit needs to promote benefits for both sides, right?
 Your baby boy will steal the show in this dashing formal smocked suit by Big Elephant, adding an air of elegance to every special moment.
This fashionable newborn smocked outfit with an adorable bowtie gives the toddler boys suspender suit a stylish and sophisticated look. This outfit is made of 100% cotton material which is soft, comfortable, and gentle on your baby's delicate skin.
 These gentleman formal smocked outfits are suitable for babies from 3-6 months, 6-12 months, 12-18 months, and 18-24 months.
| Most liked feature | What I didn't like |
| --- | --- |
| 100% cotton | Not machine washable |
| Buckle closure | Maybe a size issue with the given details |
| Snap button design | |
Dress your little princess to impress and capture picture-perfect memories in this floral ruffled smocked bodysuit that comes with a cute printed headband.
Every mother surely buys because of its sleeveless ruffled square-necked, daisy pattern, layered skirt, bottom snap design, easy to put on and take off and change diapers.
With multiple sizes and colors available, you can choose the best fit size for your baby girl from 0-6 months, 6-12 months, 12-18 months, and 18-24 months old.
| Most liked feature | What I didn't like |
| --- | --- |
| High quality breathable fabric | Loose thread everywhere |
| Easy to put on and take off | |
| Adorable floral print | |
Another super cute smocked outfit to bring out the joy of sunny days. The dress is ideal for going to the park with your kids or doing outdoor activities comfortably.
You can give your little princess' wardrobe a sophisticated feel with this collection, which features classic floral patterns. Your baby will move freely without any hassle.
Made with breathable materials, the fabric is so light which helps to keep baby fashionably cool. Whether it's a day at the park or a family picnic, your little one will steal the show with her fashionable flair.
| Most liked feature | What I didn't like |
| --- | --- |
| Stitching material is soft | Brand tag is on the outside |
| Breathable and comfortable | |
| Ideal for outdoor activities | |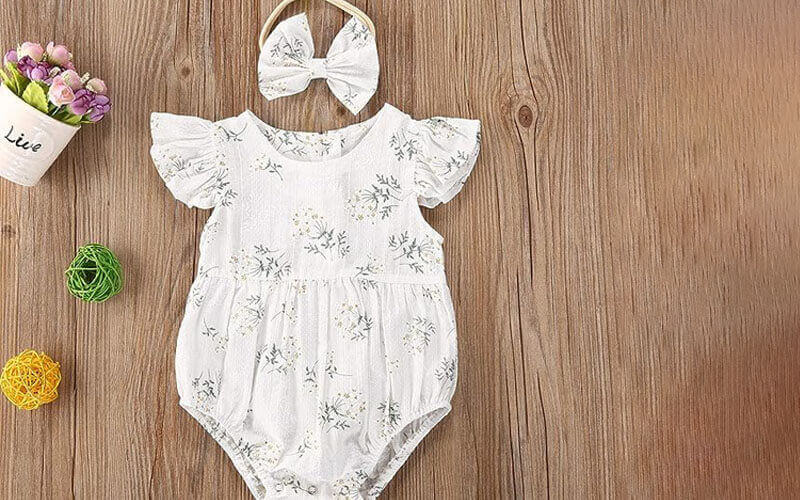 This smocked baby cloth design has been popular for generations due to its timeless appeal, intricate detailing, and comfortable fit. It's a beautiful and comfortable outfit for little babies to wear.
Its charming bow gives sweetness to this already adorable outfit. Your baby will be the focus of attention in this delightful smocked bubble at any family event.
This practical but cute gift will be appreciated by every parent on that occasion, whether it is a baby shower gift or a newborn gift.
| Most liked feature | What I didn't like |
| --- | --- |
| Super cute and classic | Wooden buttons are uncomfortable for baby |
| Machine washable | |
| Ideal for outdoor activities | |
| Perfect gift for a baby shower | |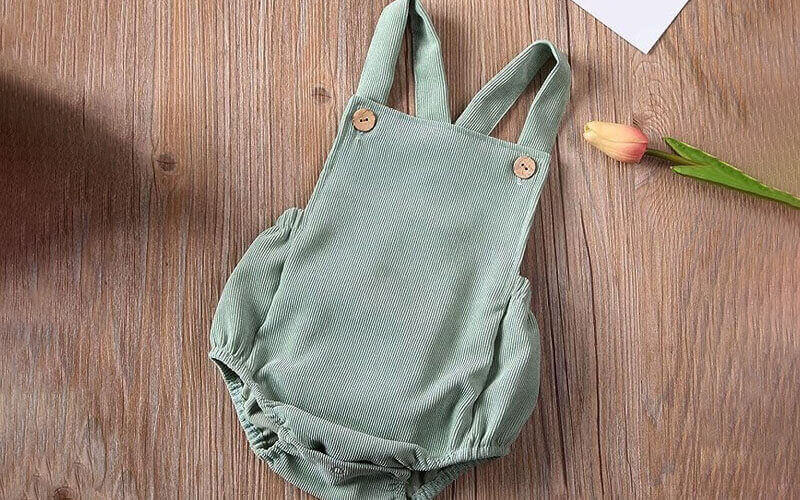 For your baby's first photos, get this Unisex newborn smocket outfit. This smocked romper keeps him comfortable and ready for endless fun whether he is crawling, toddling, or exploring.
The straps are easy to adjust, while the cotton lining provides a soft touch to their skin. Your baby can stay cool, comfortable and look absolutely precious all summer.
This bodysuit looks very classy and cute on any occasion, whether it is for a 1st photoshoot, beach party or birthday celebrations.
| Most liked feature | What I didn't like |
| --- | --- |
| Comfortable to wear | Straps are too long even on the short button |
| Easy to put on or take off | |
| Ideal for baby photoshoots | |
Aww, how cute this outfit is for babies who are ready to go to a swim party with their parents. It promises effortless style and all-day comfort.
Its fine quality stitching gives a classy look to babies, while the soft and breathable fabric ensures your baby stays happy and content throughout the day. 
Whether it's a trip to the park, a visit to the grandparents, or a day full of play, let your baby roam and play in unrestricted comfort with this outfit.
| Most liked feature | What I didn't like |
| --- | --- |
| Machine washable | A size issue was mentioned in the reviews |
| Pull-on closure feature | |
| Comfortable to wear all day long | |
Let your little one enjoy the comfort of handmade love in this beautiful newborn smocked outfit. It's cute pom-pom design gives this newborn baby a trendy look.
The cozy knit fabric keeps your baby snug during cooler days. With this dress, your baby girl will shine like a little star in her first professional photographs. 
Cherish these irreplaceable moments forever with an outfit that reflects the pure joy of new beginnings. It's the best outfit and easily goes with other items (Bodysuit, Jumpsuit or a coat)
| Most liked feature | What I didn't like |
| --- | --- |
| High quality, soft and comfortable fabric | A little difficult to put on |
| Machine washable | |
| Available in different design | |
| Choose from a variety of available size | |
Conclusion
General dresses are not a good choice for playtime and the period when they are learning to crawl.
In fact, they are contraindicated, even for safety reasons, due to the risk of getting hooked on the knee and toys (such as the slide); choose a bodysuit called a smocked outfit.
As we've seen, there are many suitable newborn smocked outfit options! 
Always remember to think about practicality when changing and the comfort of the little one when choosing a baby smocked dress.