When driving with your baby, it's imperative to keep them entertained in the back seat, no matter how short your trip might be.
So get them the engaging kids' car toys to stay in the back of your car trip.
After all, baby toys bring joy and help develop your baby. With the right selection of toys, the child develops mental activity, coordination of movements, hearing, and speech.
You might be surprised to know that not all toy cars suit toddlers. Your baby's little fingers will not grasp some cars or maybe not come in his/her favorite or engaging color.
Remember that every toy for a baby is not only fun and a means for development but also a load on the psyche, nervous system, and sensory organs.
Best Baby Toy Cars For Toddlers
Beep, Beep, no more words because you already know the obsession of your baby with cars! Just ride to this list of best toy cars for kids.
You can find a great toy car for your toddler without feeling guilty. 😍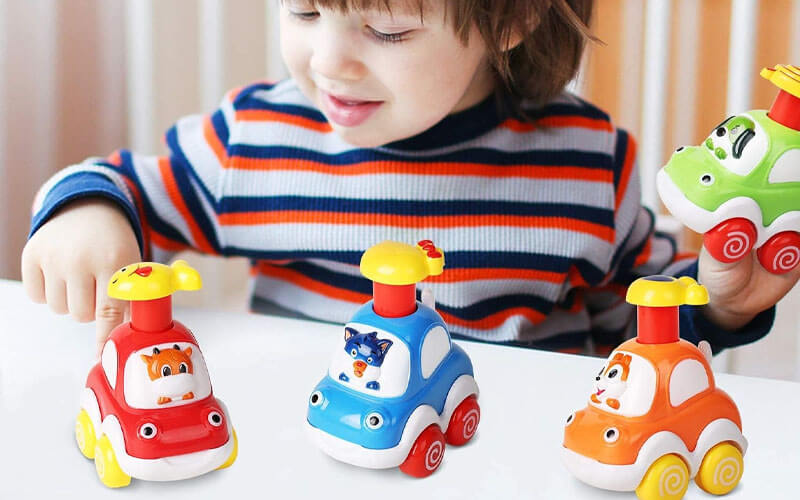 Your baby who loves cars will enjoy this toy. This is an innovative way to introduce your baby to colorful animal-pictured vehicles.
This toy set has 4 cheerful colors and adorable cartoon characters that will appeal to children and help foster their imagination, color awareness, and practical skills. They just have to press the button and off it will go – no batteries needed.
Much to your satisfaction, the animal-style toddler toy car is made of non-toxic materials and has no small parts that can pose a choking hazard.
Most liked feature
What I didn't like
Non-toxic ABS material
The push button can become faulty if it takes
multiple hits
Perfect size for baby's hands
Smooth rounded edges
Holding and manipulating this soft rattle car will give your baby a tactile experience. This set of 2 geometric-shaped cars is designed for babies under 1 to 5 years old.
The small particles inside the tire of this car will engage kids in playing and watching the car with curiosity. Your kiddo will be happy to play and make a noise.
Safety is a top priority, and this toy delivers. Without needing batteries, the car glides effortlessly for a longer distance, adapting to your baby's gentle pushes. And don't worry about the durability, these cars can sure take a hit.
| Most liked feature | What I didn't like |
| --- | --- |
| Soft rattle car | Some reviews claim the wheels may break soon |
| Made of some soft rubber material | |
| Operates without batteries | |
These soft plushie pull-back vehicles set is ideal for your baby who just started crawling. They will chase with excitement as these cars come in bright colors.
Babies can easily accelerate with the rev-up mechanism inside the vehicles by pulling them back and releasing them; they watch as they zoom off.
This intuitive play induces excitement and encourages the development of fine motor skills. This toy can also be chosen as a gift for a new baby or a 1-year toddler.
| Most liked feature | What I didn't like |
| --- | --- |
| Ease of cleaning | Toy fabric gets allergic if not cleaned |
| Soft material | |
| High-quality fabric use | |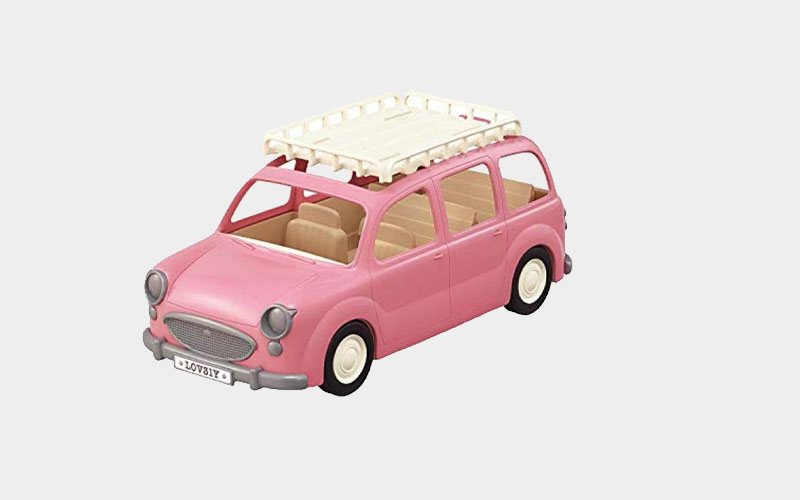 Who says a girl doesn't like to play with cars? Most of us!
But when the choice comes in pink, they surely say, Yes… this is what she exactly wants. Considering the pink charm of this picnic car, it can be used with her existing doll house toys.
But the excitement doesn't stop there! This toy car has removable bench seating and a trunk door that cleverly converts into a picnic table set. And there're plates, cheese and coffee cups as well. Let your kid create a complete beach experience with this best car toy.
| Most liked feature | What I didn't like |
| --- | --- |
| Giftable toy for little girls | Not suitable for toddlers under 3 years |
| Sturdiness | |
| Easy to assemble | |
Get this attractive push cars toy sets that offer exciting play experiences for young children.
These monster trucks stimulate curiosity, creativity, and hand-eye coordination, bringing joy and imagination to your child's playtime.
Back-and-forth, pull-back, and push-and-go with big wheels,  these vehicles familiarize your angels with popular characters while helping them improve their coordination.
| Most liked feature | What I didn't like |
| --- | --- |
| Big wheel design | It may not be durable |
| Smooth and round edges | |
| Friction power | |
These three pull-back buddies want mates that can attend the automobile party with them; yes, your tot will be the 4th in this party.
Playing with the small, convenient Mini Wheeee-ls is a fantastic way for your child's inner driver to hone dexterity and fine motor abilities. This could well be an addition in your kid's morning routine.
This best baby car set contains 1 police car, 1 school bus, and 1 race car. They fit their little hands and are well-made and sturdy.
| Most liked feature | What I didn't like |
| --- | --- |
| No battery require | Some reviews claim that it's made of hard plastic |
| An ideal choice for infants | |
| Made of squishy plastic | |
| Easy to hold | |
| Encourage crawling | |
Inspired by Montessori teachings, these best wooden toy cars for babies facilitate eye-hand coordination and fine motor skills.
They make an exceptional gift for any occasion, providing endless entertainment and educational value for babies and toddlers.
These push-wooden cars are made of organic wood and are specially tailored for baby hands. Additionally, they seem solid and well made to last for babies.
| Most liked feature | What I didn't like |
| --- | --- |
| Made with organic material | No con found |
| Child-focused size | |
| Adorable and smooth wheels | |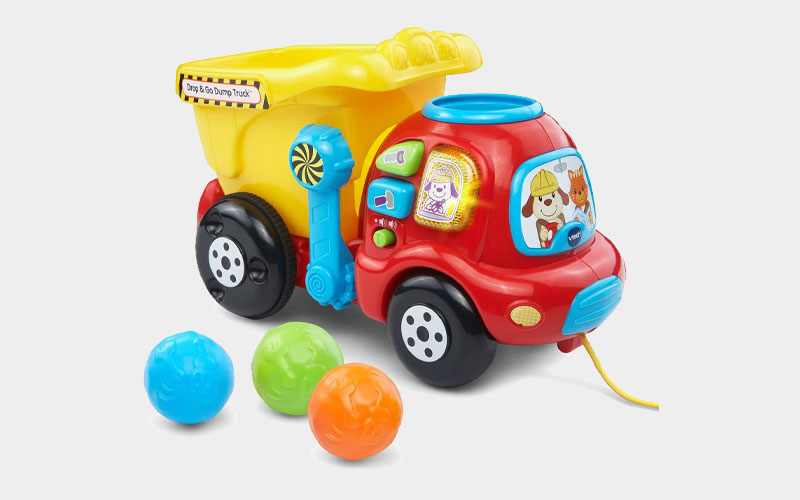 Here we have another cheerful toy car for babies. It is designed to engage and educate toddlers aged 6 months to 3 years. This toy requires 2 AAA batteries.
To add to the interactive experience, it includes three colorful buttons because why not? Kids love colors.
When pressed, these buttons play melodies and phrases, teach about tools and colors, and expand your child's knowledge in a fun way.
| Most liked feature | What I didn't like |
| --- | --- |
| Volume control option | Operate with battery |
| Sturdiness | Not ideal for Inftans to play |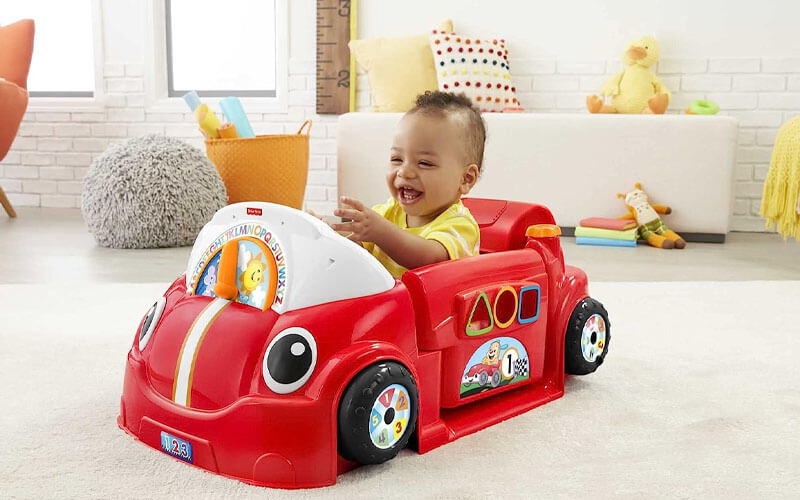 Watch as your little one discovers shapes, colors, numbers, and more through the interactive features of this activity center.
Your little one can roll the balls down the ramp, which will enhance their fine motor skills and hand-eye coordination. This toy will surely improve their learning behavior.
It also teaches shapes, colors, the alphabet, numbers, opposites, and more with 120+ songs, sounds, tunes, and phrases.
| Most liked feature | What I didn't like |
| --- | --- |
| Easily moveable | Light & music claims to last less than a few days |
| Perfect lightening options | |
| Easy to assemble | |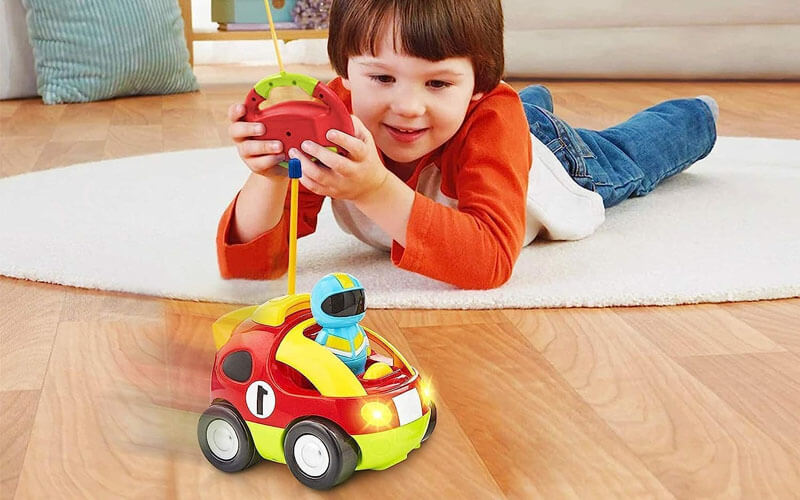 Safe for babies, toddlers, and kids, this remote-controlled toy car for babies with their drivers can go a long way with an effortless remote control signal.
The two-channel remote control allows for forward and reverse left movements. The race car is constructed from non-toxic ABS plastic with soft edges, ensuring a safe play experience.
Recommended for children aged 18 months and up, this race car combines fun and safety in one exciting package.
| Most liked feature | What I didn't like |
| --- | --- |
| Fast and fun play | Hard to back up the battery every time |
| Easy to use | |
| Smooth looking sleek wheels | |
End lines
Each selection offers unique features that can engage and entertain your little one.
With one of these 9+ best baby toy cars, you'll be able to provide your toddler with hours of playtime and encourage their development delightfully and engagingly.
It's time for the fun to begin, 🥳 so let your little ones roll.