What can be better than tucking your little bundle of joy baby into their crib and hoping to catch up on your weeks' worth of sleep? Certainly NOT the constant worry of whether your baby is awake, crying, or up to some mischief!
If you relate a little too much to this scenario, you need to plan a complete checklist, and that starts with investing in a reliable, top-rated split-screen baby monitor in your nursery as a 2023 baby must-have.
There are hundreds of different types of split-screen baby monitors in the market to choose from. However, we can imagine your young one keeps you too busy to browse for the perfect one.
Don't worry; this is where we jump in to help!
From the sharp picture and sound quality to batteries capable of lasting through the night, we have chosen the 7 best split screen baby monitors that will give you a good night's sleep.
Still not convinced?
Here are some things we looked for when nominating the 7 best baby monitors for you:
Quality video and audio.
Dependability and durability.
Long battery life.
User-friendliness.
Advanced features on a budget.
Best Split Screen Baby Monitors
We have mentioned the models with their shopping links.
1. LeapFrog LF915-2HD Split Screen Baby Monitor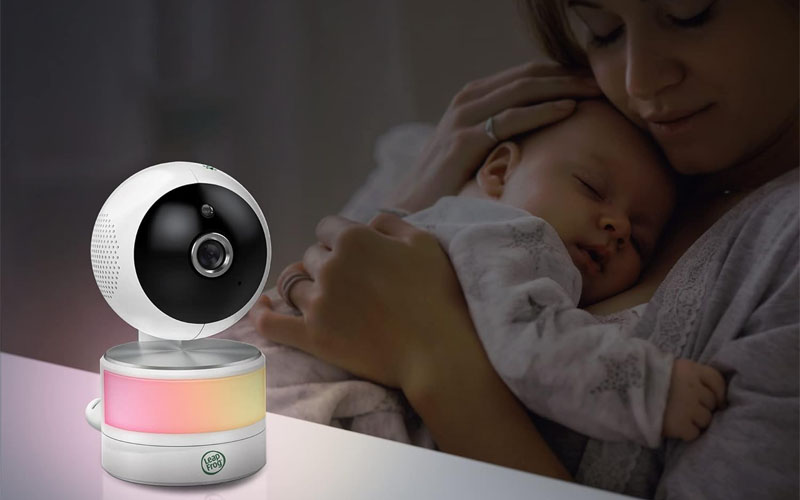 Want to keep an eye on your baby in color? Ditch the traditional black-and-white night vision cameras for good with this 5-inch 720p top-rated split-screen baby monitor. The high-definition camera comes with an adaptive, dimmable night light. This light adjusts to the room's brightness, especially illuminating the nursery when required.
The best part? The cameras with this best baby monitor have smart sensors. While the camera comes installed with the typical noise and motion sensors, alerting you as soon as your baby makes the slightest noise, it is also equipped with temperature and humidity feelers. Suppose there are any environmental changes in your nursery. In that case, you will be informed to ensure that your baby plays and sleeps in a comfortable atmosphere.
Not only this, but the sensors automatically trigger a soothing sound when crying is detected, singing your baby a lullaby till you can swoon them in your arms. We just can't rave about this split-screen baby monitor enough!
| Most liked feature | What I didn't like |
| --- | --- |
| Has crisp night vision. | Short battery life |
| Two-way intercom | Video glitches on low battery |
| Smart sensor for sound, motion, temperature, and humidity | |
2. Moonybaby 55 Split Screen Baby Monitor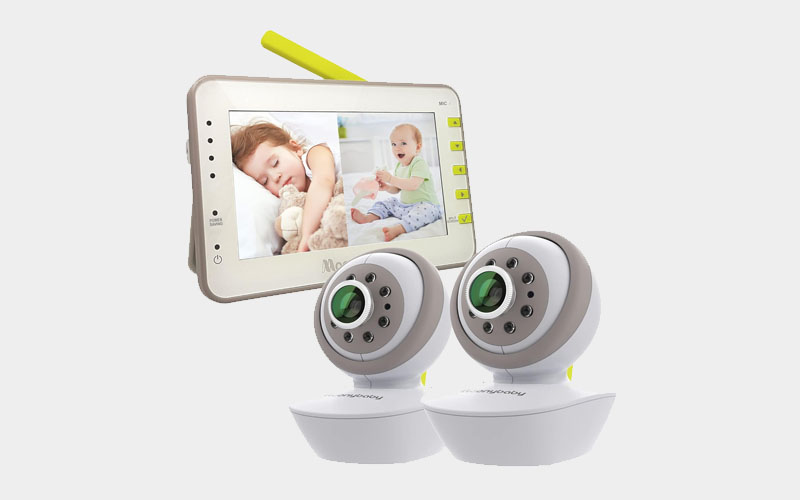 The Moonybaby 55 split-screen baby monitor comes with two cameras. So, whether you install the cameras in two different rooms or in the same room at very different angles, you can always keep an eye on both your babies on the screen side by side. Plus, you can always control the camera to pan, tilt, and switch to a 170-degree wide-angle lens from the parent handheld.
Are you (rightfully) extra cautious about your beloved baby's safety? Do you try to keep their presence off the internet, especially on your social media?
If you've answered a clear "yes" so far, this split-screen baby monitor without WiFi is probably the best option for you!
The Moonybabybest baby monitor without WiFi does not have built-in WiFi like most cameras, ensuring the utmost safety of your darling child. While some parents feel comfortable relying on split-screen baby monitors with WiFi, you can never be too sure about who might hack your camera – after all, the dangers of the internet are endless!
| Most liked feature | What I didn't like |
| --- | --- |
| Five built-in lullabies | Small connection range |
| Power saving mode to extend battery life | Difficult UI/UX |
| No WiFi, promising higher security | |
3. Babysense V43 Split Screen Baby Monitor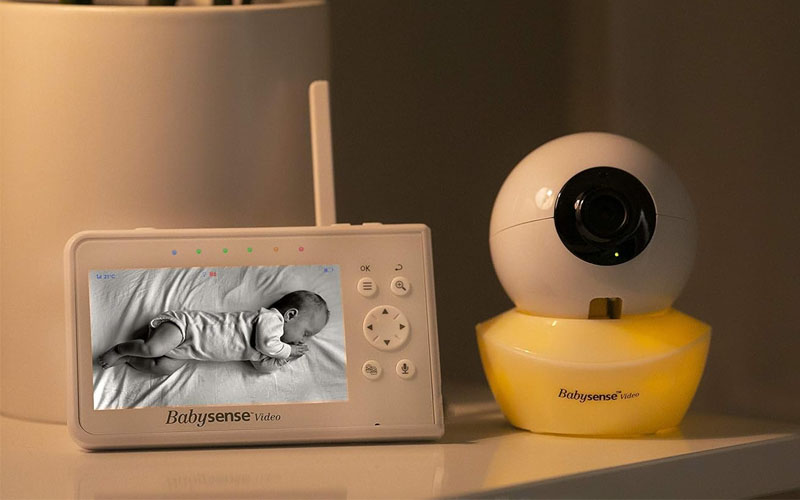 Some would say that the Babysense V43 is the best split-screen baby monitor in the market, especially since it is one of the pioneer baby monitor brands – and we couldn't agree more!
Can it possibly be the inclusion of two HD cameras that warrant sharp video? Perhaps it is the fact that the split screen baby monitor comes loaded with features, such as two-way audio, high sensitivity movement monitor, and programmed lullaby sounds, to soothe and comfort your baby while you unwind.
Lo and behold, these aren't the only features that stand out. The Babysense V43 split-screen baby monitor provides optimal protection with the guarantee of being hack-free. So, you're not just investing in a parental control tool but also in your peace of mind.
| Most liked feature | What I didn't like |
| --- | --- |
| Movement monitor with high sensitivity | Issues with sound regulation |
| Programmed lullaby sounds | |
| Guaranteed hack-free strong security system | |
Much like other reliable Motorola products, this split-screen baby monitor has a sturdy finish. It has a great button layout, using a four-way rocker to pan the camera, increase and decrease the volume, and more. All this makes navigating this top-rated split-screen baby monitor extremely easy without getting into the nitty gritty of modern UI/UX.
Featuring a sensitive microphone, the split-screen baby monitor is likely to pick up even the smallest of noise, helping you stay alert when your little one calls for you. In fact, it comes with a color-coded visual alert to help you gauge the amount of noise in your nursery.
Between its good video performance and excellent audio, the Motorola VM75 split-screen baby monitor is well worth the (very) affordable price tag in its given market niche. So, if cash is tight and all you need is a split-screen baby monitor that has essential features and does not break the bank, then it is worth checking out!
| Most liked feature | What I didn't like |
| --- | --- |
| Very affordable option | Lacks advanced features |
| Sensitive microphone that picks up a lot of noise | The camera requires a flat surface |
| Sturdy console | Does not have a long-lasting battery life |
5. Vtech VM350 Split Screen Baby Monitor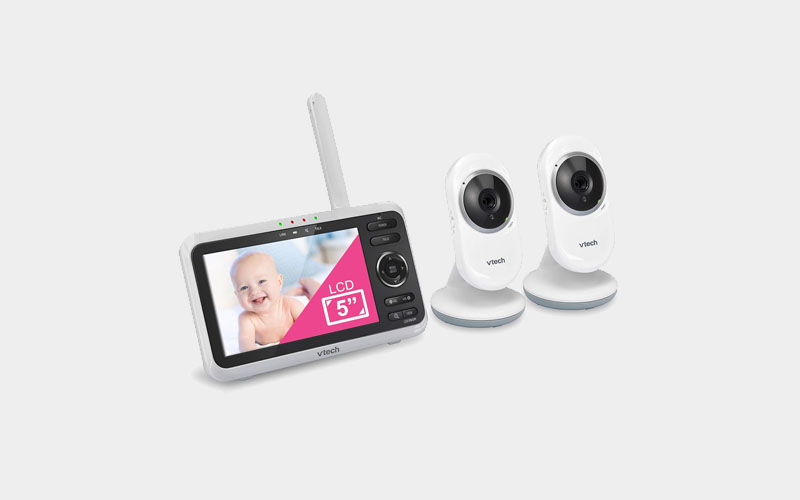 This 5-inch parent unit immediately connects with two cameras once plugged in and displays a bright and detailed color image, which is perfect for keeping a stern eye on your young one. In fact, you can see your baby's every little move from bed or while doing daily chores. The infrared night vision mode automatically kicks in when it gets dark while notifying you on the display.
The Vtech VM350 is known to be one of the best split-screen baby monitors without WiFi because of its high-quality battery life and range, offering up to 12 hours of video streaming and 21 hours of audio-only monitoring, all on a single charge.
However, its battery isn't the only thing users rave about. The split-screen baby monitor comes equipped with 5 calming melodies and 4 sets of ambient sounds so you can gently lull your baby to sleep. The best part? Thanks to the two-way talkback, your baby doesn't have to feel like you are away from them.
| Most liked feature | What I didn't like |
| --- | --- |
| Ample lullaby options with two-way talkback | Only comes with a narrow-angle camera |
| Strong battery life | |
| Built-in temperature sensors | |
6. Bonoch Split Screen Baby Monitor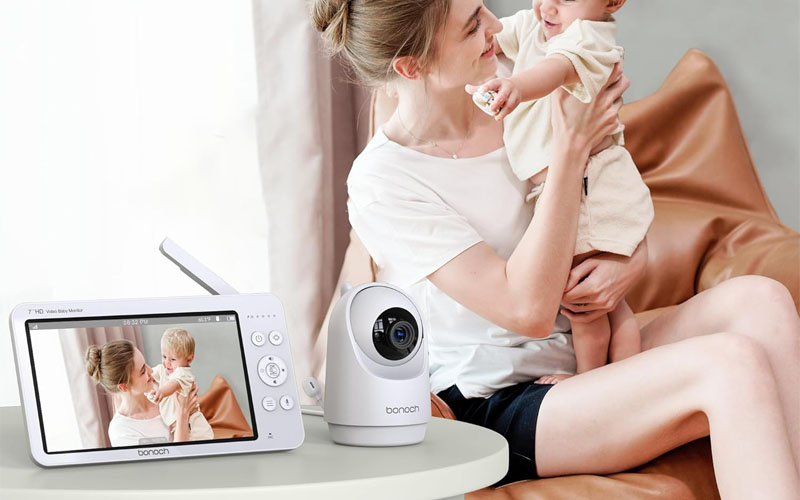 The monitor comes equipped with a 7-inch 720p HD display, which presents crystal-clear quality with sharp pictures and twice the detail. Not only this, but the camera lens pans 355 degrees and tilts 115 degrees to capture all the corners of the room, allowing you to keep an eye on every bit of your beloved baby's moves. This extends to the night mode, as the split screen baby monitor shows off its auto night vision with sharp black-and-white images even in pitch darkness.
Moreover, the monitor is loaded with advanced features, such as real-time sound, two-way talk, and temperature detection. With the Bonoch split-screen baby monitor, say goodbye to all the glitchy hassles of traditional baby monitors and say hello to a simpler, all-rounded tool that helps you care for your little one in an efficient way.
| Most liked feature | What I didn't like |
| --- | --- |
| No WiFi; hence, offering a high security level | Weak battery life |
| Flexible camera lens covering all corners of the room | Low sound |
| Larger display screens than most competitor products | Smaller range |
7. Vtech RM5764 HD Smart WiFi Split Screen Baby Monitor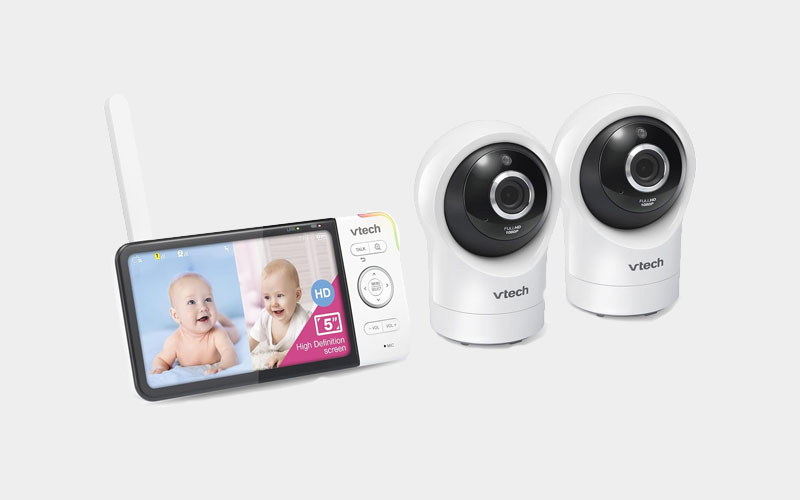 The Vtech RM5764 split-screen baby monitor is an advanced system configured for local monitoring right out of the box. With no complicated setups or application signups required, this monitor does exactly what it is made to do! Some of its best, most-renowned features include an HD night vision camera, motion detection and triggered recording, soothing sounds, and temperature control.
The cameras transmit 1080p HD video on the 5-inch colored LCD screen, helping you see every single move clearly in a 110-degree wide angle with x10 zoom. Additionally, it has multiple viewing options, including single, split screen, and patrolling mode.
The best part? You can keep an eye on your babies remotely by viewing via the internet through the MyVTech Baby Pro app without any fee.
| Most liked feature | What I didn't like |
| --- | --- |
| Comes with MyVTech Baby Pro App for remote viewing | Struggles to connect if you have weak WiFi |
| Motion sensor triggered recording with 30 video clips saved for free | Weak battery life |
| Has a range of options for soothing sounds and lullabies | |