Babies are cute.
Babies are filled with fun.
Babies give you moments of love.
But they sure need proper care and attention. Even when they are one-month old, even when they're going to the beach, or sleeping in their crib or playing in the house.
Yes, PLAYING.
You want this process to be beneficial for them, right? One way of doing that is to give them the right surroundings.
Today, we'll be shedding light on the best baby playmats for your little ones. So they are comfortable, safe and engaged in their playtime.
Types of Babycare Playmats
There are two primary types of baby playmats: foam and fabric.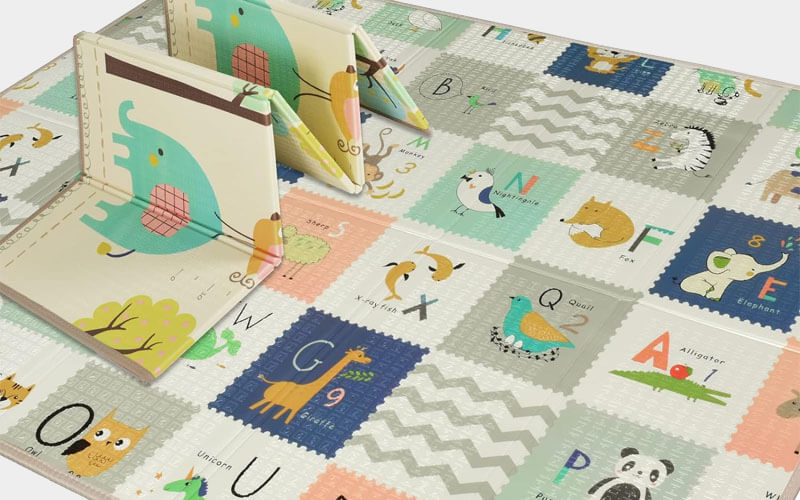 Foam baby playmats are often made from soft, cushioned materials that provide a comfortable surface for babies to play on. They offer excellent shock absorption, making them ideal for tummy time and early crawling stages. They are also easy to clean (not machine-washable), which is a significant advantage when dealing with inevitable spills and messes.
However, one drawback is that they can be bulkier and less portable than fabric playmats, making them less convenient for on-the-go parents.
The second type is fabric baby playmats. They are typically more lightweight and compact, making them a great choice for families who travel frequently. They often come in a variety of colorful designs and patterns, which can stimulate a baby's visual senses.
Fabric playmats are easy to fold and store, but they may not provide the same level of cushioning as foam playmats, so they might not be as suitable for very young infants. But that being said, they can easily be washed in a washing machine.
Now to the top baby playmats for your angels.
Best Baby Playmats For Every Need
Each playmat in this list is selected according to a different need. Choose the one that suits you the most.
Everyday adventure of your little angel starts from a safe ground. And that's what this top babycare playmat will provide.
Immersed in a Moroccan theme on one side and playful characters on the other, this reversible mat is sized at 82 x 55'' so your toddlers and infants can play, crawl and move in an open field.
Made from non-toxic material, it is waterproof. You can easily wipe it with towels or wipes. And when you have to clean the floor, simply roll it away and ta-da, you're done.
| Most liked feature | What I didn't like |
| --- | --- |
| Comes with a 2-year warranty | Expensive |
| Foldable & reversible design | |
| Large size which makes it fit for toddlers as well | |
Machine washable? No
2. MioTetto Foam mat – Best with tile interlock system
If you're into tile-interlock playmats, this one is for you. What makes it one of the best baby playmats is the freedom you get to shape it and the different color options you get to choose from.
Be it for the grooming time of your toddlers or crawling time for your little girl, the mat is suitable for all. Made out of 0.4-inch-thick EVA form, it's both cushiony and BPA-free – no health hazard, mommies!
Each tile is 12 x 12" and you get 18 pieces in total. Arrange the waterproof tiles as per your need and have a blast every day of the year.
| Most liked feature | What I didn't like |
| --- | --- |
| Ability to alter the shape of the mat | The design is simple |
| Waterproof and reversible design | |
| Free of lead, BPA and phthalates | |
Machine washable? No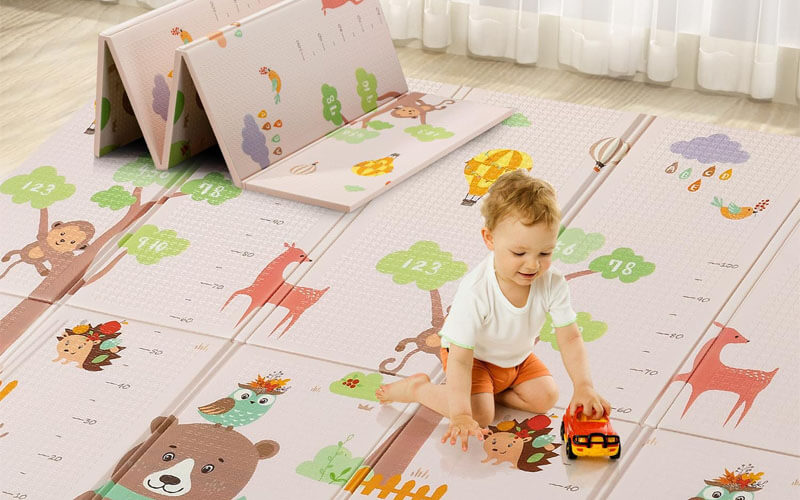 Okay now, this one should have been placed on the top of this best baby playmats list. Why do we say that?
It's a waterproof play mat.
It can be folded for easy storage.
It's quite large – 79 x 59 is the largest size available.
Made of XPE form, it satisfies your safety concerns.
The design is lively – bears, squirrels and deers on it.
It's reversible. The other side has letters, shapes & digits.
Can it get better than this? It is suitable for your toddlers, infants and kids aged 4 years old. And it can be taken to parks and beaches as well. A steal, really.
| Most liked feature | What I didn't like |
| --- | --- |
| Waterproof and large size | Nothing |
| Foldable & reversible | |
| Very affordable | |
Machine washable? No
4. Uanlaou Play Mat – Best versatile (outdoor & indoor)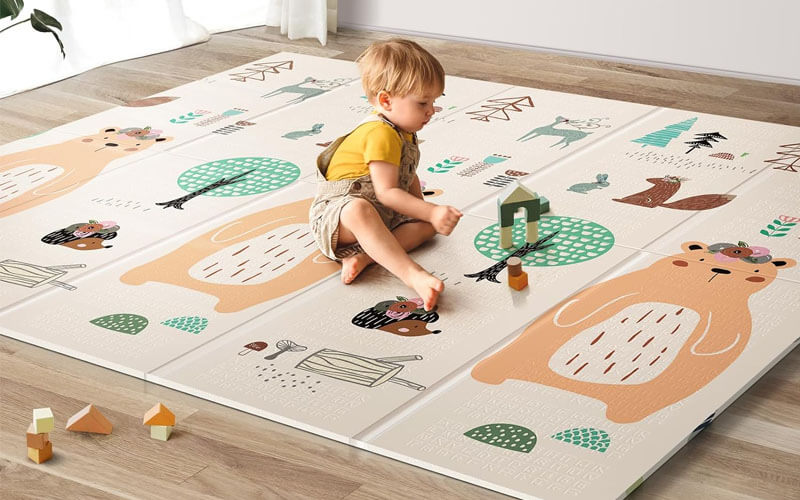 And with this product, we introduce you to the world of foldable baby playmats. Made with XPE material which is laminated with PE, it's one of the most safe and soft baby playmats on the market.
And did we mention the attractive characters on it – rabbits, bears, foxes and many others? They'll surely keep your little ones busy playing while you do your house chores.
It measures 79 x 71 inches, is reversible in design, includes letters as well for cognitive development and is resistant to water and milk. All you have to do is to clean it with wipes in case of spills – Easy, right?
Moreover, the foldable nature allows it to be carried away portably so your kids can use it in parks and amusement centers the same way as the home.
| Most liked feature | What I didn't like |
| --- | --- |
| Foldable design | Not many designs available |
| Large in size to fit all needs | |
| Includes attractive characters & numbers | |
Machine washable? No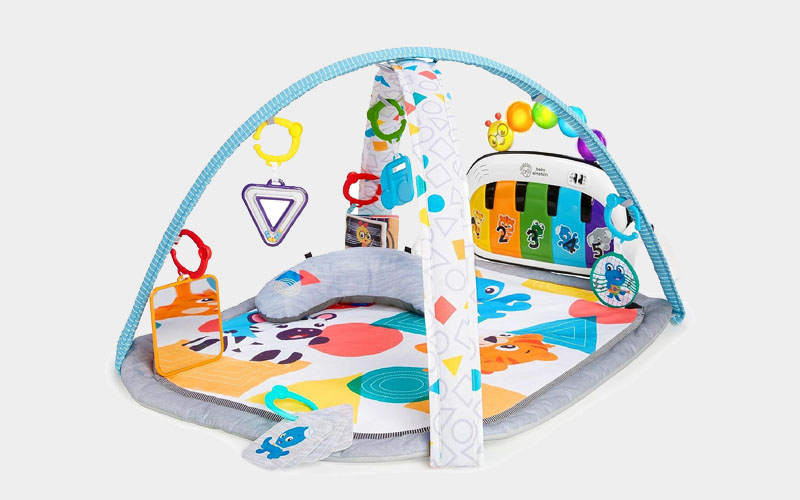 Whether you're shopping for baby toy cars or baby playmats, versatility and accessorization are some of your top considerations. Right?
This one is a 4-in-1 model that grows with your infant.
There's a laying mode, a sitting mode, a tummy time mode and a take-along mode (depending on the age of your baby). There's a canopy that you can choose to remove as your baby grows up and there's a piano toy that has magical features.
Your little angels would get a total of 70 sounds and 25 minutes of music for infinite entertainment. And there are 7 detachable toys included too. Too good to be true, right? But it is.
| Most liked feature | What I didn't like |
| --- | --- |
| 4-in-1 design | It is not waterproof |
| Suitable for 0-36 month kids | |
| Includes endless activities for the babies | |
Machine washable? Yes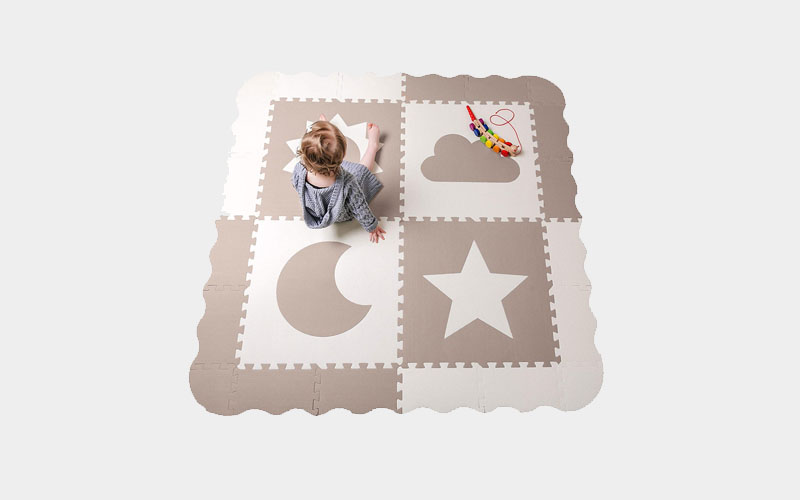 Looking for a stylish baby mat for your toddlers? This one checks almost all the boxes.
24 tile pieces that you can arrange according to your nursery's size.
Montessori-designed to fit with your indoor décor.
Waterproof and gets cleaned easily.
Extra tight fit. You can make a small surrounding wall as well.
A large size of 61 x 61 inches.
Is there anything left😄?
| Most liked feature | What I didn't like |
| --- | --- |
| Simple and stylish design | Some parents might want a more playful design |
| Tile-interlock design | |
| Made from certified EVA form | |
Machine washable? No
Another on our list of best baby playmats is this foldable one by Viber Bear. As large as 79 x 63 inches, this playmat comes in a single-piece design so you don't have to endure the hassle of joining together the tile pieces.
BPA-free and odorless, it will allow a peaceful space for your toddler to crawl, play and laugh. You can fold it comfortably to take it on vacations OR put it compactly in a cupboard after your kid is free from all the fun.
Unfortunately, it's not water-resistant, but you can clear off the stains of urine, milk or dirt by tossing it into the machine.
| Most liked feature | What I didn't like |
| --- | --- |
| Large size | Not waterproof |
| Simple design | Only 3 designs available |
| Can be folded for storage and transport | |
Machine washable? Yes
This affordable playmat for babies is a unique option in this list. Why is it designed this way?
So you can place your couches and tables around it like a wall and leave your toddler inside the "fort" to play. Smart, right? Well, I just made it up:p
Anyhow, you'll be satisfied with the soft microfiber fabric and the non-slip backing that ensures it stays put as your little one jumps, crawls or flips on top of it.
It's not as large as the other playmats in this list – 52 x 45 inches, but it serves the purpose well for small apartments and nurseries. Rendered into an adorable dinosaur theme, this one keeps your kid happy and busy. When dirty, simply toss it into the washing machine.
| Most liked feature | What I didn't like |
| --- | --- |
| Affordable | Not waterproof |
| Non-slip backing | Not very large |
| Unique hexagonal shape | |
Machine washable? Yes
Why do we regard it as an interactive baby playmat? Because it has a road pattern on it which will assist in improving the routing and pattern-identification skills of your toddlers. Have your baby lay on it in a smocked outfit and watch them move their cute fingers on the roads.
Made up of foam and 79 x 59 inches in size, this one is waterproof and foldable.
Milk stains? Can be cleaned.
Urine? Can be cleaned.
Dirt? Can be cleaned.
And when you have to take it on vacations or aunt's house, simply fold it into the bunker of the car. And oh, did we mention, it has a reversible design? No time for washing? Simply, flip the side and use it for 2 more weeks.
| Most liked feature | What I didn't like |
| --- | --- |
| Interactive design | Not meant for small spaces |
| Foldable & waterproof | |
| Large in size | |
Machine washable? No
Qualities To Look For In The Best Baby Playmat
Now, what to look for in a good baby playmat? Hmmm. No worries, we have it answered for you, mommies and (some) daddies.
1. Material
Whether you choose a fabric or foam type of playmat for your little ones, get one that is soft and skin-friendly. It should be free of BPA, lead and other harmful materials. Check for certifications.
2. Size
The right size depends on your nursery or room's dimensions. Be very careful about it. I'd much prefer buying the tile-interlock playmats if I am not sure about the dimensions of the room.
3. Colors
Yeah, colors attract babies like honey attracts the bees. So you would want to consider that as well. Bright colors also nourish the cognitive senses of the babies.
4. Age range
Some playmats are very small – meant only for infants. Others are large – to compensate for the playtime and crawling of the toddlers. Choose wisely.
5. Washability
Yes, important. Foam ones are not machine-washable but generally waterproof. The fabric ones are usually machine-washable. Look at what suits you and then choose the type accordingly.
Bottom line
That's it. Hope we eased your selection of the best baby playmats. If you have any questions, shoot them in the comments.