Isn't it cute to see newborns wearing hats with their names? Aww that looks so adorable, especially the color and the text pattern, opss your little champ also! 🤭
Do you have a baby shower or newborn party coming up, you're still looking for an original gift or searching for the best personalized newborn hat for your newly arrived baby?
Surprise new parents with something more than a standard gift, and choose a personalized item for your cutie pie. These super soft name hats are the ultimate baby gift.
We have selected the best quality newborn hats to assist you. You can personalized it according to your favorite color, name, and design. Give your little one his first adorable baby hat.
Pick The Best Personalized Newborn Hats
Children feel more comfortable and secure in their new environment when they are wearing newborn baby bonnets. Choose your favorite one from our specially selected newborn baby hats.
Let's transform your baby hat into your little work of art with lots of love.
Oh, so cute option!
This lotus flower personalized cotton hat contains customized name embroidery on the hat to make it perfect for a baby girl.
This hat is made from the softest cotton fabric and offers comfort and style fit for a little king. This hat is customized with any color of the lotus flower mentioned in the product details.
Recommended age for newborns – 3 months. It does not heat the head or cause allergies. The material is very flexible, foldable, and can be washed normally.
| Most liked feature | What I didn't like |
| --- | --- |
| Pull-on closure | Baby hat is too big for the first few weeks |
| Hand wash only | |
| Stunning and adorable | |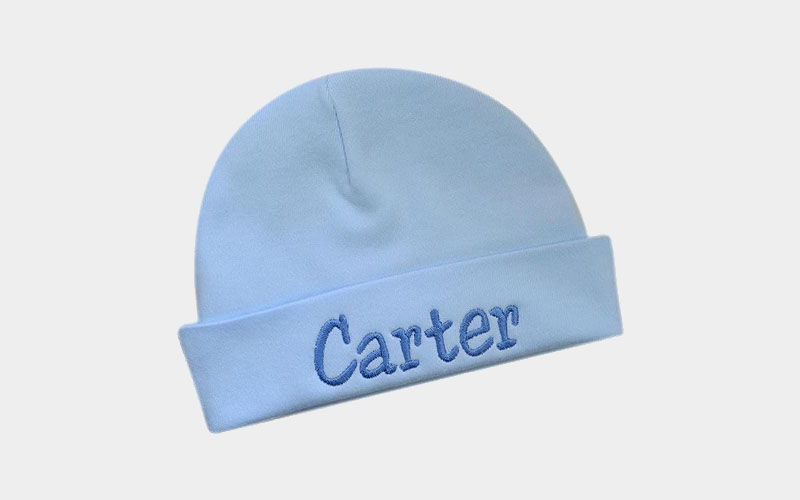 Parents, this hat for babies is an incredible piece of children's fashion to protect the little one's head from the sun and complete the look of any outfit.
And the cool thing is that this personalized hat helps to make babies look very stylish. Such children's cotton hats are the best, especially for newborns.
Cotton is a more delicate material, super soft; the material also favors internal ventilation, does not cause irritation or allergies, and can be washed easily.
| Most liked feature | What I didn't like |
| --- | --- |
| Fine embroidery | Must order a larger size |
| Fabric quality is good | |
| Machine washable | |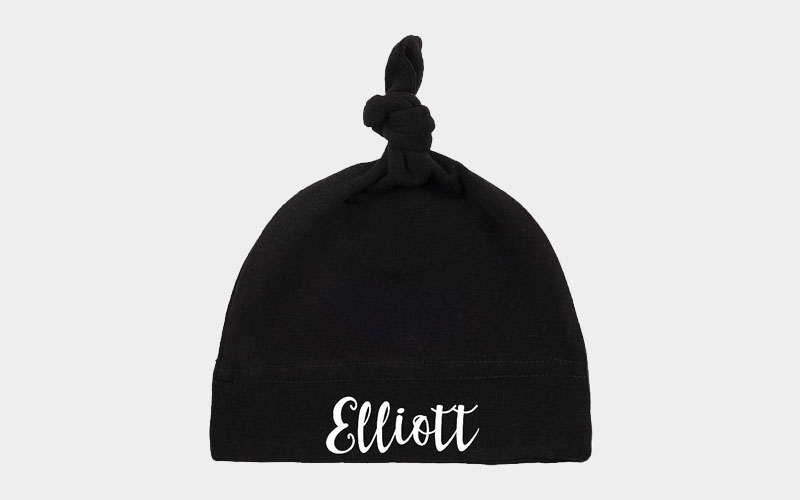 Watch baby snuggle up in warmth and style, making memories that will forever bring a smile to your face with this knotted baby beanie hat that is an absolute must-have!
A knotted hat that fits perfectly and adds endless charm to every outfit. This handmade hat is 100% pure cotton with fine stitching and embroidery quality.
You can feel confident that your baby is nice and cozy in their knot hat because this brand chose a lightweight fabric with great stretch.
| Most liked feature | What I didn't like |
| --- | --- |
| Great newborn gift | Ideal to buy only for one month |
| Made of breathable cotton | |
| Tie a knot to adjust the size of your baby's head | |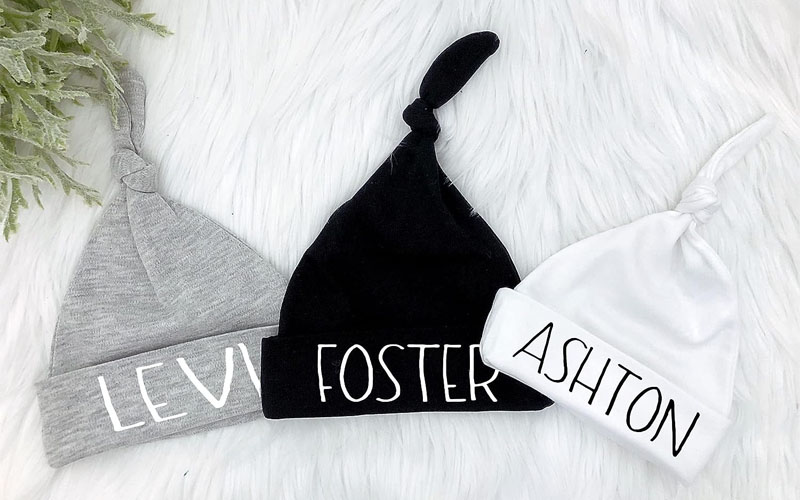 Now we have another knotted newborn hat from Squishy Cheeks, this store is popular for its super cute newborn clothing items made of soft and cozy.
This trendy knotted baby hat comes personalized with his or her name in heat transfer vinyl, is not embroidered, and are made from a soft jersey knit and stretchy knit for the perfect fit.
Whether you are finding a hat for a newborn or 3-month-old baby, you can buy this because the fabric stretches are perfect for any newborn head.
| Most liked feature | What I didn't like |
| --- | --- |
| Personalize with any name | Some reviews claim print spells merge with each other |
| Soft and stretchy fabric | |
| Great baby shower gift | |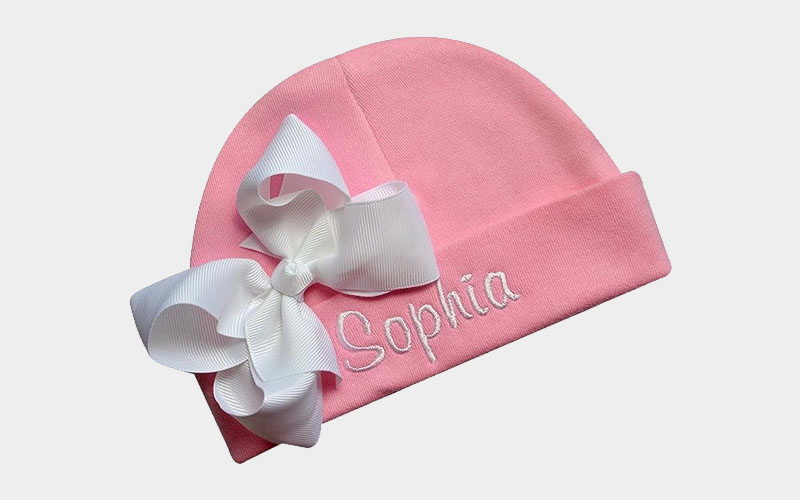 One of the most cute children's hats on our list is here with a beautiful bow for baby's fashion. The hat is made of cotton, with comfortable, lightweight and breathable fabric.
In addition to being great value for money, the hat is washable and foldable, has good quality, and has a resistant finish.
This newborn hospital hat can be personalized with any name up to 12 letters in your choice of thread color. The hat fits babies from newborn to 3 months.
| Most liked feature | What I didn't like |
| --- | --- |
| Lovely & cute bow design | No adjustable option is available |
| Personalized with any letter name | |
| Fabric quality is excellent | |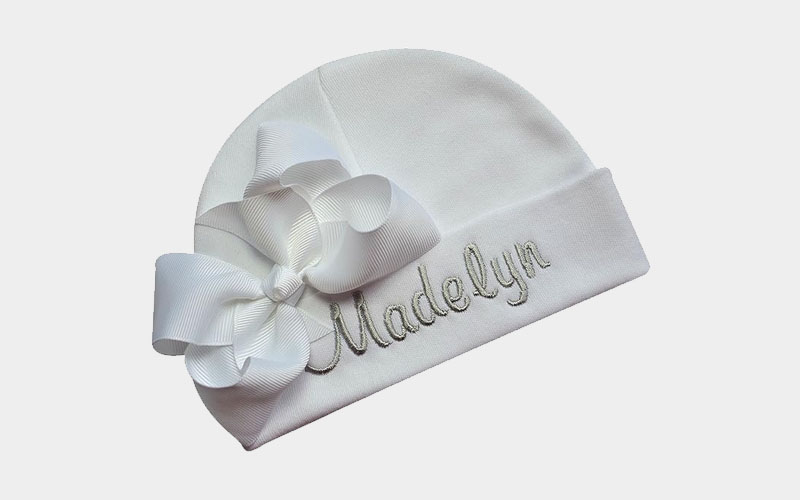 Welcome your little princess with elegance and grace! This personalized baby girl hat, featuring a dainty grosgrain bow, is the epitome of charm and sophistication.
Customized with her name, this hat becomes a treasured keepsake, capturing the magic of her early days.
This adorable hat is fit your baby from birth to three months, this custom baby hat is an easy-wearing piece for your little one to match any outfit.
| Most liked feature | What I didn't like |
| --- | --- |
| Value for money | Hand wash only |
| Soft & breathable fabric | |
| Giftable customized hat | |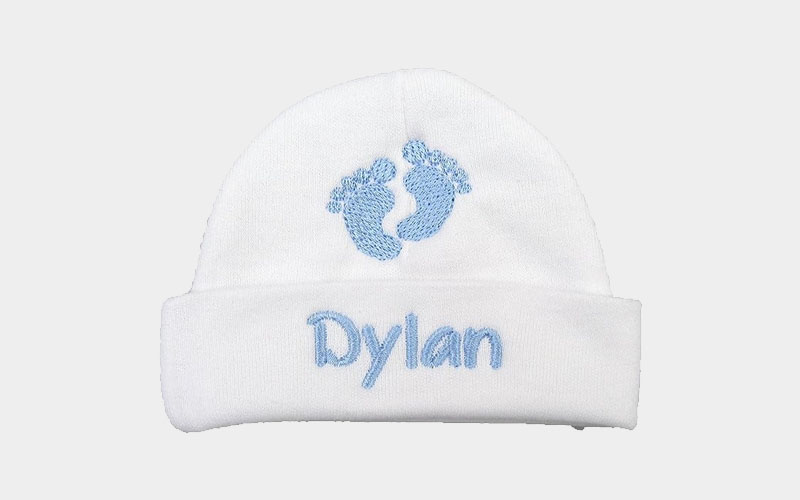 Aww, how adorable the paw print hat with the baby's customized name looks so stunning.
Welcome him into the world with warmth and tenderness, embracing his tiny feet with love. This hat, customized with his name, gives a heartfelt tribute to the new life you've brought forth.
This hat is absolutely beautiful made of 65% Polyester & 35% Cotton, with comfortable, lightweight and breathable fabric.
The sizes range from 0-3 months – 13″ circumference with a 2″ stretch to 3-6 months – 15″ circumference with a 2.5″ stretch.
| Most liked feature | What I didn't like |
| --- | --- |
| Worth the money | Not providing UV protection |
| The elasticity of the fabric is perfect | |
| Premium packaging | |
Make your special moments more special!
This Melondipity newborn baby hospital hat is perfect for his first day because it is soft and designed to keep him warm and cozy during his stay at the hospital.
You'll never have to worry about this baby hat not fitting, as it's stretchy and will fit perfectly even after months of usage. Also, it ensures that the cap stays on your child's head.
Aside from making your baby's first photos sweet, this newborn boy hat is also a wonderful gift for a baby shower or newborn welcome party.
| Most liked feature | What I didn't like |
| --- | --- |
| Cozy stretchable fabric | Hand wash only |
| 100% hospital hat fabric | |
| Pull-on closure | |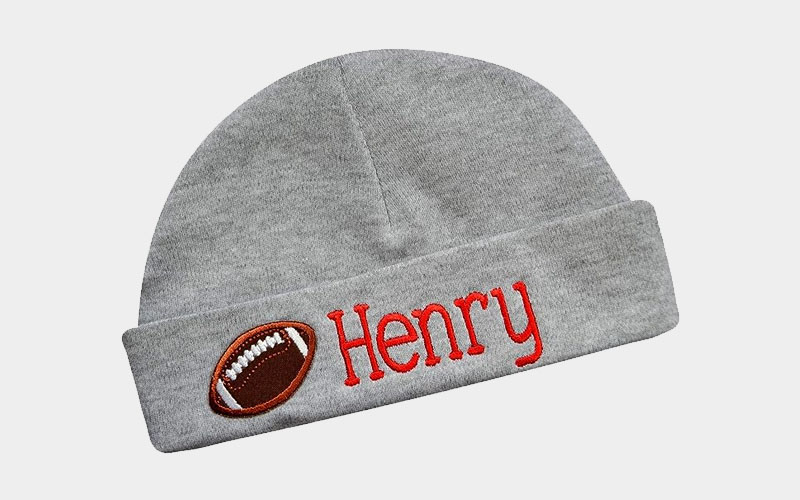 The perfect baby shower gift awaits!
Adorned with his name, this hat becomes a treasured memory, capturing the excitement and anticipation of his arrival.
The name of your choice will be custom embroidered on this cotton hat, and the recommended character limit is 12.
Infants up to 9 months are recommended, but depending on their head size, they may fit as young as Newborn-6 months.
| Most liked feature | What I didn't like |
| --- | --- |
| 100% pure cotton | No cons were found in the reviews. |
| Made in the USA | |
| Machine washable and foldable | |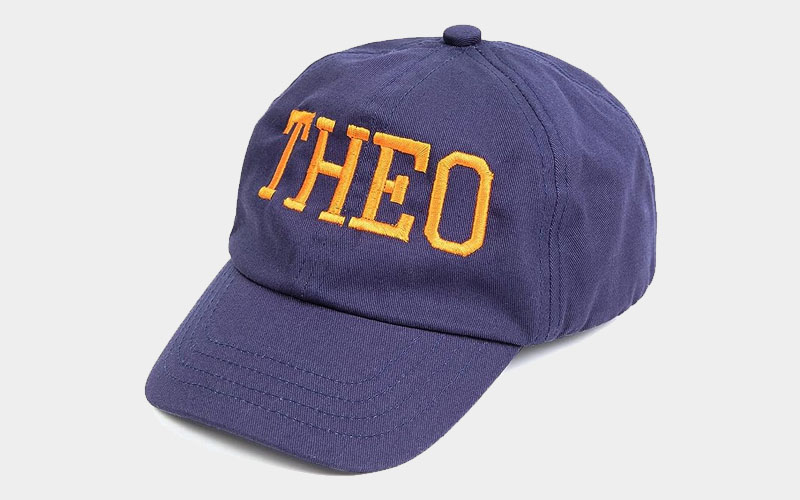 If you want to go camping, go to the beach or pool, this is one of the best children's hats, as it has great protection against the sun's rays.
A personalization element gives it an extra cute vibe, and it's perfect for your child to have a safe, fun time on vacation.
The sporty navy blue color blends superb style and optimal comfort into a custom embroidered hat. Your choice of color, font, and text is available from the listed options.
| Most liked feature | What I didn't like |
| --- | --- |
| Button closure for easy wearing | A sizing issue mentioned in product details |
| Breathable and comfortable fabric | |
| Style with a personalization element | |
Welcome the little princess with a special gift that celebrates the miracle of life. Watch her shine and twirl in delight as she wears her special crown, marking every moment with grace and beauty.
Treat your little princess like royalty with this personalized embroidered baby girl hat featuring a sparkling princess crown and threaded customized text.
Reusing after a machine wash requires some care, such as not ironing, because ironing may affect the width of the fabric and loosen the threads.
| Most liked feature | What I didn't like |
| --- | --- |
| Machine washable | Some reviews claim the size issue |
| Fabric is soft and comfortable | |
| Limit up to 12 character | |
Conclusion
Newborn hats add extra charm to the look of the little ones, not to mention that in spring🍃 and summer 🌞they are a success, as they protect against the sun's rays on the head!
This collection of the best personalized newborn hats not only preserves heat and regulates body temperature while giving babies style and precious memory. In addition to serving as a symbol of parents' exceptional bond with their baby, personalized newborn hats offer a unique way to express love and care when given as a gift.
Remember that the above head wears are authentic hospital-grade hats, which are ideal for providing extra warmth since they come with a double function.
Make every snuggle, every giggle, and every photo even more special!😍