When it comes to selecting toys for our children, we only want the finest.
Be it a good toy car or a sit-to-stand walker.
Therefore, we are here to unearth the best baby toys made in USA.
Prepare for a whimsical journey filled with laughter, education, and infinite amusement.
These American-made infant toys, from submarines to stuffed rattles and teethers to ABC blocks, will make playtime an unforgettable experience.
Parents and caregivers, fasten your seatbelts as we enter a world where pleasure knows no bounds✌️
Get Your Hands On These Best Baby Toys Made In USA
Let's take a look at the best USA-Made baby toys you can buy in 2023: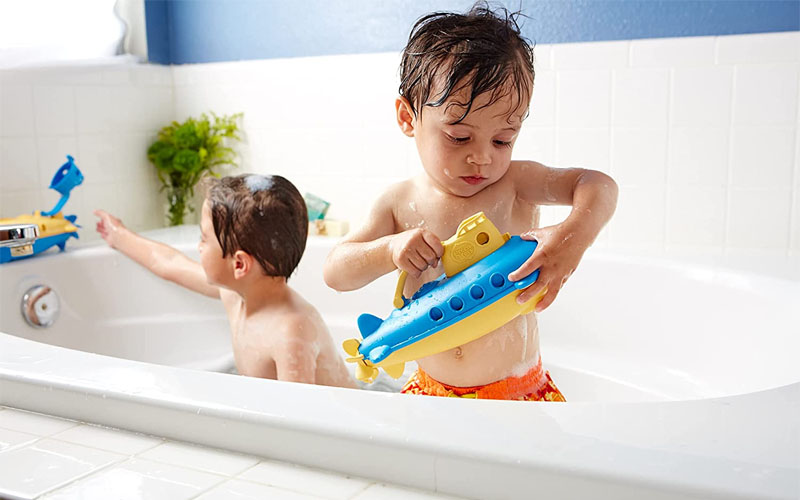 This vibrant yellow and blue submarine is made entirely of recycled plastic milk jugs. It is ideal for imaginative water play, thanks to its spinning rear propeller and spacious, open cockpit.
The submarine could be the most ingenious American made baby toy that is meant to float on the surface of the water, providing hours of splish-splash pleasure while also boosting hand-eye coordination and fine motor skills.
It is also dishwasher safe, which means it is easy to clean and maintain.
| Most liked feature | What I didn't like |
| --- | --- |
| Eco-Friendly | Limited Functionality |
| Safe and Non-Toxic | Age Range |
| Imaginative Play | Limited Color Options |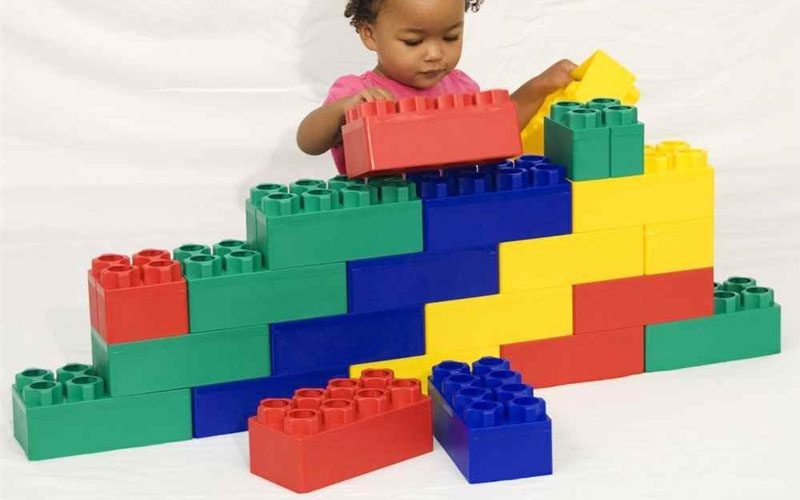 This safe baby toy made in USA is as playable as it's kid-friendly. It's by Jumbo Blocks that have been in the industry since 2009.
There's so much to the stacking, tearing down and arranging of these blocks. The edges are smooth so there's no risk of an injury for your little ones. And they come in 4 vibrant colors; red, yellow, blue and green.
You can choose from different variants of pieces that you want – another feature that makes this USA toy for your baby a great deal.
| Most liked feature | What I didn't like |
| --- | --- |
| Teaches balance, symmetry | Expensive for some |
| Very durable; they will fall and not break | |
| Suitable for 1-5 year olds | |
While Vtech has its headquarters in Hong Kong, it has R&D centers worldwide in USA, Germany, Canada, etc.
The reasons why this is included in the 'best baby toys made in USA' list are various.
Firstly, it grows with your baby. At one time, it's a floor toy and on the other, it's a table. Secondly, the number of activities on this table is plenty. Your little angel can press buttons, move the roller, listen to melodies and pretend to answer the phone.
Thirdly, it has an educational aspect to it, too. The book on the table allows your baby to learn about shapes and letters. And lastly, the colors are very engaging.
Win-win situation, right?
| Most liked feature | What I didn't like |
| --- | --- |
| Helps your kids in standing | Lightweight (3 lbs) so it can be a bit wobbly |
| Sturdy activity table | |
| The melodies can be used as appreciation | |
Made in the USA with 100% recycled plastic, it's eco-friendly and safe for your baby.
The shape sorter features four brightly colored shapes that fit through corresponding holes, promoting fine motor skills and shape recognition.
It's ideal for small hands, thanks to its easy-to-grasp handles and smooth edges.
With this fantastic USA made toy, your youngster will have hours of fun and educational play.
| Most liked feature | What I didn't like |
| --- | --- |
| Promotes Fine Motor Skills | Limited Variety Of Shapes |
| Encourages Shape Recognition | Smaller Than Expected (For Some) |
| Smooth Edges | |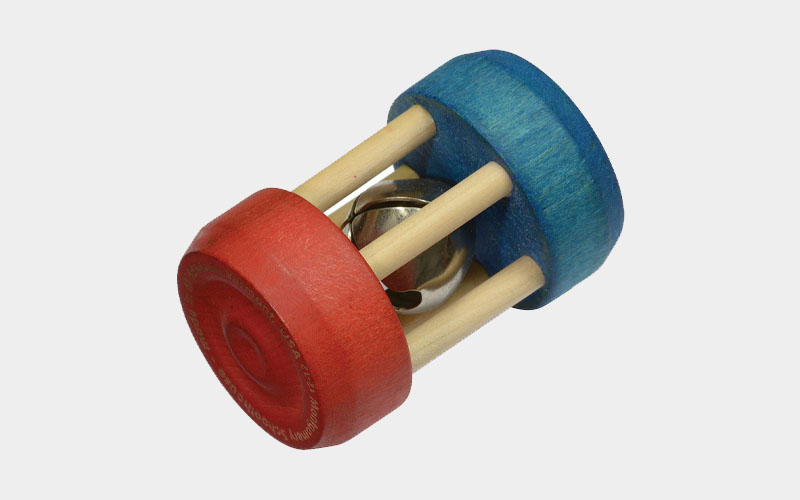 This lovely rattle, designed with your child's development in mind, provides a world of sensory exploration and infinite enjoyment.
Its soothing bell sound attracts your baby's attention while improving their hearing and developing aural abilities.
This safe and sturdy rattle, made of high-quality materials, is ideal for young hands to grab and shake, boosting motor skills and hand-eye coordination.
Its small size makes it great for on-the-go play, and fits easily into diaper bags or strollers.
| Most liked feature | What I didn't like |
| --- | --- |
| Compact and Portable | Minimal Interactive Elements |
| Stimulates Sensory Development | Potential Monotony |
| Durable Construction | |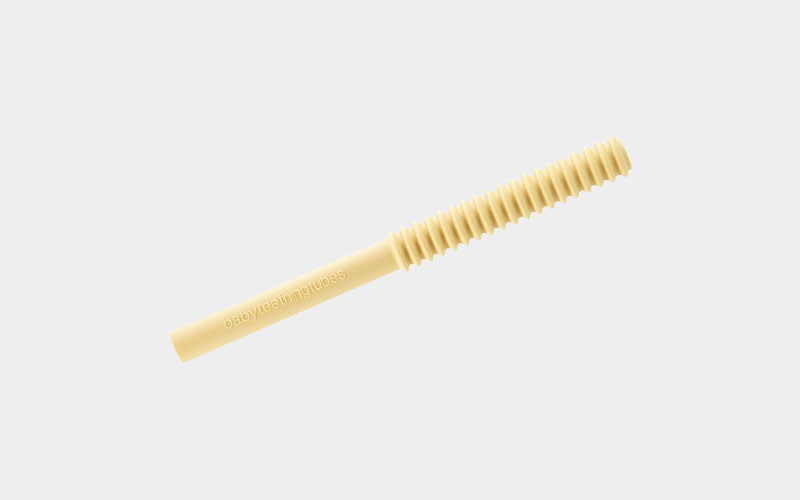 The Baby Teething Tubes are excellent for parents whose children are teething.
These tubes are made from hypoallergenic materials, assuring your child's safety and comfort.
These are amongst the best silicone baby toys made in the USA asthey can rapidly capture your baby's attention with their vibrant colors and engaging shapes, along with providing relief during the teething process.
The dimension is ideal for small hands and aids in the development of fine motor skills.
We strongly recommend these teething tubes as a dependable and effective teething remedy.
| Most liked feature | What I didn't like |
| --- | --- |
| Easy To Clean | Mildew Smell |
| Easy To Hold | A Bit Overpriced |
| Effective Relief From Teething Troubles | |
This beautifully crafted stacker features a set of wooden rings in different sizes and shapes, inviting endless exploration and problem-solving.
Your baby will develop hand-eye coordination, fine motor skills, and spatial awareness as they stack the rings onto the strong base.
This stacker is made of natural materials and is devoid of toxic chemicals, making it ideal for teething babies.
Its elegant design and silky texture make it a superb baby toy made in the United States as well as a lovely addition to any nursery.
| Most liked feature | What I didn't like |
| --- | --- |
| Educational Value | Limited Color Palette |
| Montessori-inspired Design | Potential Complexity |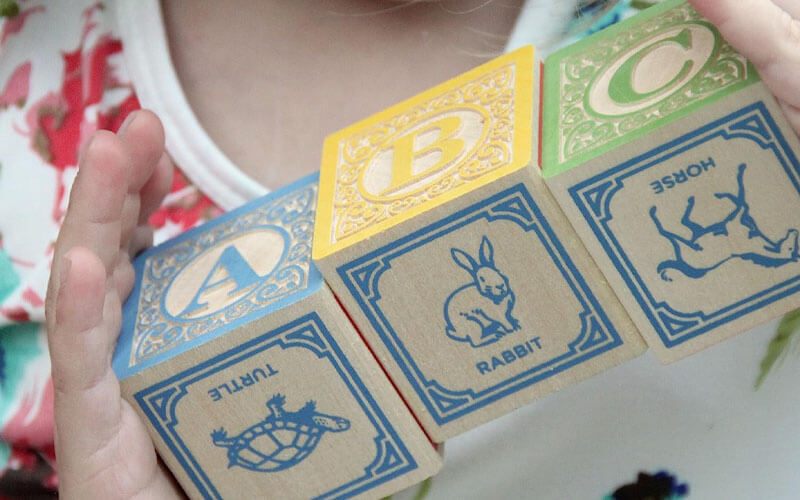 These lovely wooden blocks include brilliant colors, attractive images, and engraved letters, making them ideal for teaching your child the alphabet and fundamental language skills.
Each block is manufactured from sustainably harvested wood and treated with child-friendly, non-toxic inks to ensure a safe play experience.
These blocks can survive prolonged stacking, building, and imaginative play due to their strong design.
Uncle Goose Classic ABC Blocks are the ideal partner on your child's learning journey, whether you're introducing them to the world of language or simply improving their fine motor skills.
| Most liked feature | What I didn't like |
| --- | --- |
| Non-Toxic | Funky Smell |
| Open-Ended Play | Too Soft Wood |
Let us introduce you to the Baby Banana Training Toothbrush and Teether – a gentle and safe oral care solution for your little one.
Designed with soft silicone bristles, it provides a soothing massage for delicate gums.
Its playful banana shape and texture offer teething relief while promoting healthy oral development.
Make oral hygiene a fun adventure for your baby with this must-have USA made toy.
| Most liked feature | What I didn't like |
| --- | --- |
| Safe and BPA-Free | Size Limitation |
| Gentle on Gums | Single Design Option |
| Easy to Clean | |
Final Verdict
Loved these toys?
We know you do because these toys are extremely adorable and the thing we love the most about all these aforementioned best baby toys made in USA is that they educate the babies in one way or another.
So, would you please let us know your top picks out of the ones we have discussed above?
We'd love to hear you out!