Parenthood brings a lot of excitement and chaos. When your new baby arrives, you want to ensure they have everything they need to stay comfy and safe. That's where a baby kit comes in handy! In this guide, we'll discuss the best baby kits for 2023 to create ease and comfort. Without any delay, let's get going on this parenting blog. 
5 Best New Born Baby Kit to Buy 
From the softest clothing to the most reliable diapers and everything in between, these baby kits are created to make early days as smooth and joyful as possible. Here are five well-regarded brands known for providing high-quality newborn baby essentials: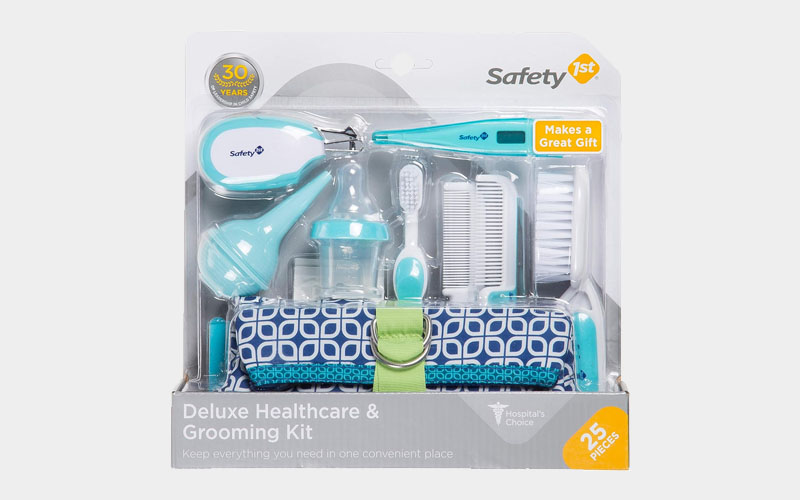 This special baby grooming kit is really good for new parents who might not be sure about what things they need for their baby. It has almost everything you might need for taking care of your baby, like grooming and stuff. It even has a bag with a zipper to keep everything safe in one place.
We, as parents who are often on the move, really like how small and handy this grooming kit is. We also like that it comes with lots of extra things. Even though there are 25 things in it, we found a use for all of them.
If you're planning to travel a lot with your little one, this is a great choice. Having all these important things with you gives a good feeling of being prepared. Nobody wants to go to a store late at night when their baby is sick.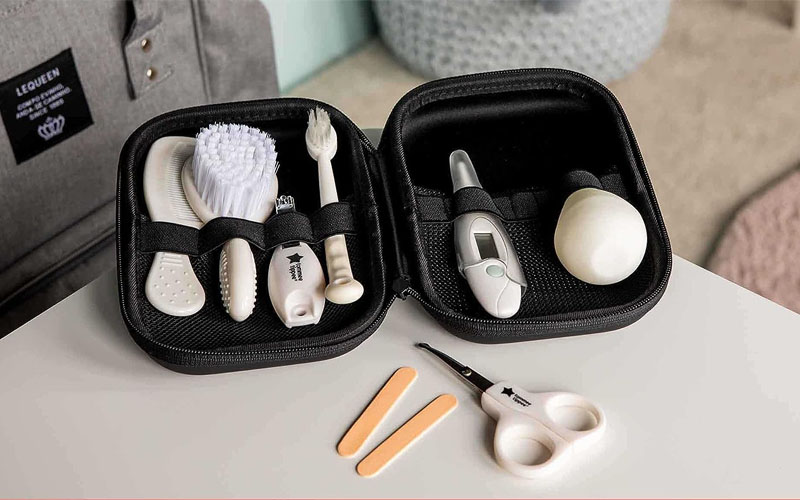 This kit is great for parents who want the best of both worlds. You can easily use the strong and small case in your baby's room or when you're outside. We really like that there's a stretchy band that keeps each thing in place. This way, if something is missing, you can see it more easily.
Whether you want to keep the kit at home or need something for when you're out, you can just take the holder and put it in your diaper bag or use another little bag to carry just the important things.
There are lots of things in this kit that can help you take care of your baby's health and grooming needs. Most kits don't have a thermometer that you can use under the arm or in the mouth, but this one has it.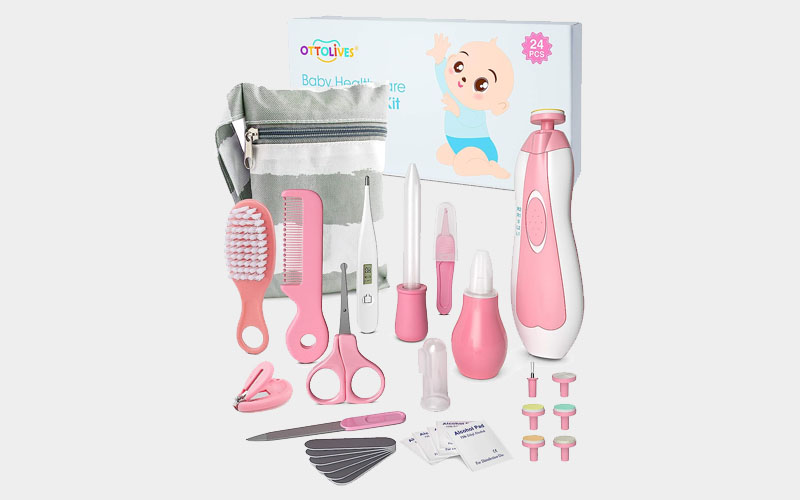 This choice is really good for parents who want more than just the basic stuff. It comes with 24 grooming essentials. If you need more than one way to comb your baby's hair, then this is a good choice. The set has a hairbrush and a hair comb. It has also items to help give your baby medicine, even if it doesn't taste nice. The other essential includes a finger toothbrush and special nail clippers that use batteries. They come with files and different parts to trim nails. These things are useful for both babies and parents. This kit is really nice for parents who want a bit more from their grooming stuff.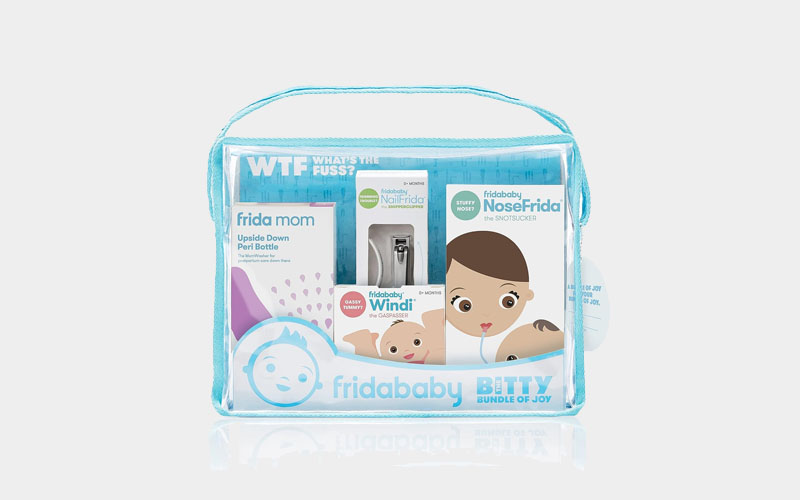 This kit has some special and different if you are looking outside the box. One of them is a popular nasal aspirator called the NoseFrida. But there's more to this kit. It also has something for moms called the MomWasher. It's like a bottle that helps moms feel better after having a baby. If you're going to have your first baby, trust us, this is something you'll want. We used it to clean and feel better after our babies were born. Sometimes babies have gas, which can make both moms and babies feel uncomfortable. This kit has something called the Fridababy Windi. It's a special thing that helps babies pass gas quickly and naturally. We know it might sound funny, but it really does work! You can use these things at home or when you're out because it comes with a handy bag to carry everything.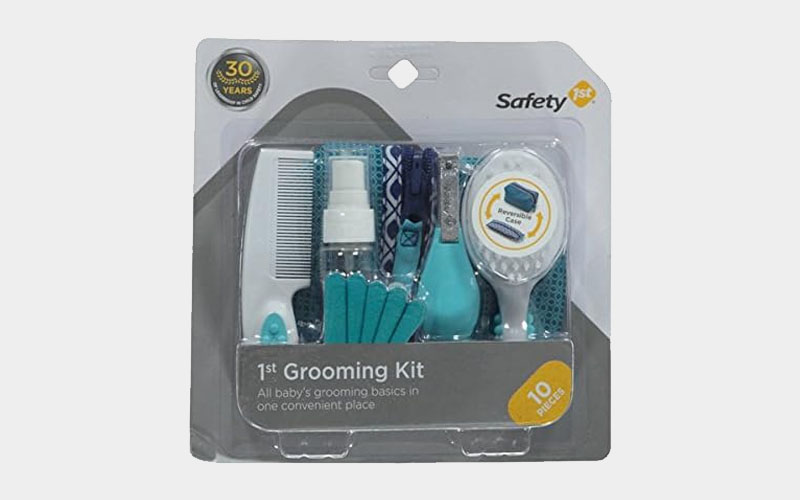 This kit is really good for parents who are often outside and need basic grooming stuff for their baby. You can put all the things in a small bag that can be turned inside out. There are different designs to pick from. This is a nice kit to put in your diaper bag because it has important things. This kit is t useful and practical and is a suitable choice for a new mother.
What to Look in Baby Kit During Shop
When shopping for a newborn baby kit, it's essential to prioritize safety, comfort, and practicality. Here are some important factors to consider and features to look for when selecting items for your baby kit:
Prioritizing Safety:
Stick to Safety Standards: As you peruse the aisles, keep a vigilant eye for products that proudly display compliance with established safety standards, such as those set by authoritative bodies like ASTM or CPSC. Such endorsements testify to the manufacturer's commitment to your baby's well-being.
Recall Awareness: Review whether any grooming products you're considering have been subjected to recalls or safety alerts. Staying informed about potential concerns ensures that your baby's gear remains free from compromise.
Certifications for Equipment: When selecting big-ticket items like car seats, cribs, and strollers, insist on up-to-date safety certifications. These endorsements underscore the product's reliability in safeguarding your baby during their early experiences.
Paying Homage to Quality and Durability:
Craftsmanship and Durability: Investing in well-made, durable items guarantees that your baby's essentials can endure the rigors of daily use and frequent washings. Examine the meticulousness of the stitching, scrutinize the seams, and assess the overall construction of clothing, blankets, and other textiles to ensure their enduring resilience.
Luxurious Fabrics: A newborn's skin is as delicate as precious. Opt for items fabricated from soft, gentle materials that caress and cosset your baby's tender skin, offering a cocoon of comfort throughout the day.
Seamless Serenity: Seek out clothing with flat seams and tagless labels, which serve as sentinels against irritation. These minor yet thoughtful design elements contribute to uninterrupted bliss for your little one.
Embarking on Effortless Usability:
User-Friendly Design: When selecting baby gear and grooming accessories, prioritize items that embrace user-friendliness. Items that are easy to assemble, adjust, and operate simplify your daily routines and create moments of joy as you navigate the world of parenthood.
Intuitive Ingenuity: Look for products with intuitive features that seamlessly integrate into your daily life. Whether a swivel function on a stroller or quick-release buttons on a diaper bag, these innovations become cherished allies in your parenting journey.
The Power of Reviews and Recommendations:
Peer Perspectives: Leverage the knowledge shared by fellow parents by reading reviews. These firsthand accounts offer invaluable insights into specific products' performance, durability, and overall satisfaction levels, guiding you toward informed decisions.
Inquire Within: Don't hesitate to tap into the wisdom of friends, family, or parenting groups. The wisdom gleaned from those who have navigated this path can illuminate your choices and the best options for your newborn's kit.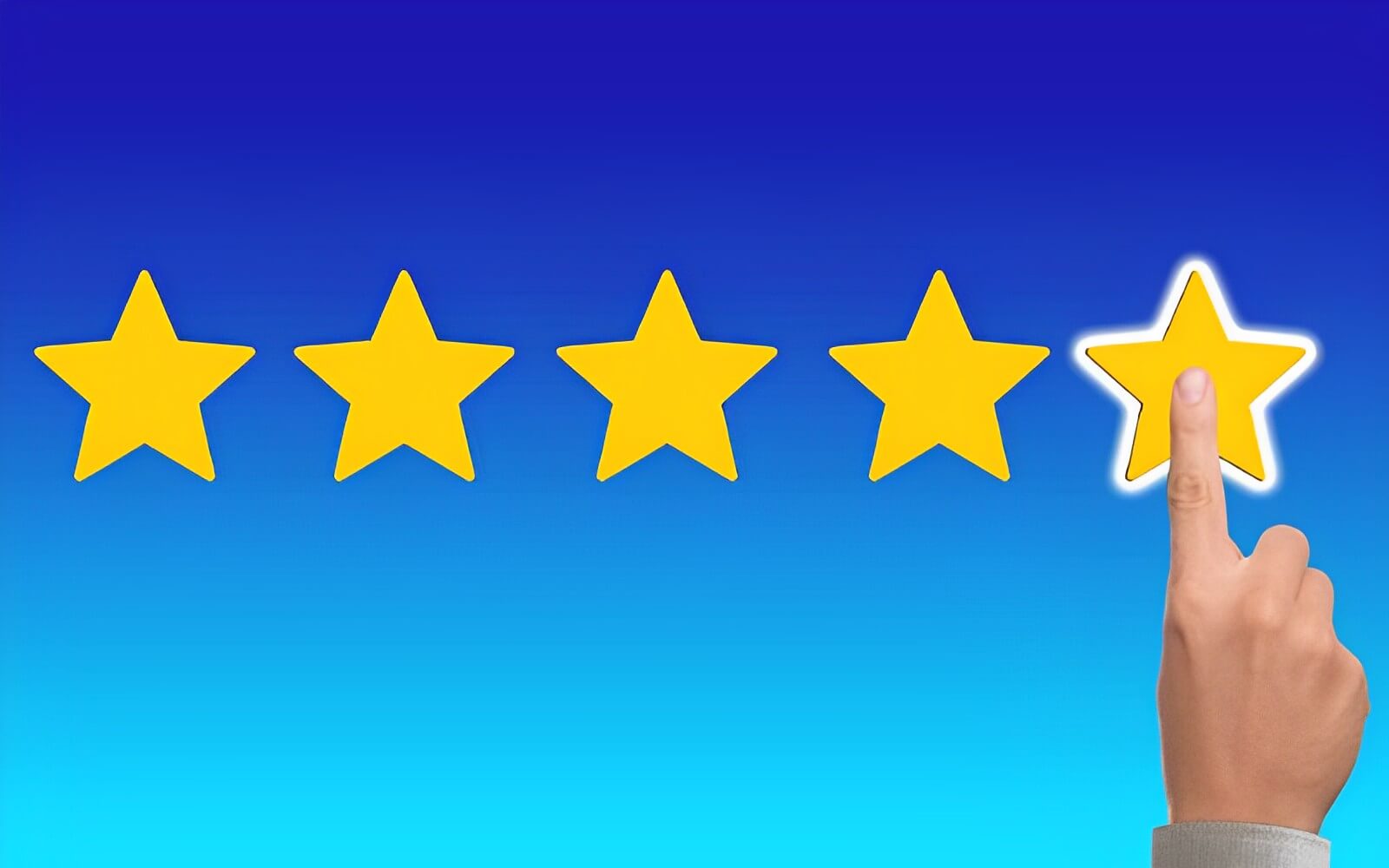 How to Make a New Born Baby Kit at Home?
Creating a newborn baby kit at home involves important items that will help you care for your baby during the first few weeks of their life. Here's a list of items you might consider including in your homemade newborn baby kit:
Diapers Supplies:
Diapers are a newborn essential, and choosing the right ones is crucial for your baby's comfort. Opt for soft, hypoallergenic diapers that are gentle on your baby's sensitive skin. Look for diapers with a wetness indicator to make changing easier. To keep your baby's skin healthy, include a quality diaper rash cream in your kit. Don't forget to add changing pads for a clean and convenient diaper-changing experience.
Cozy Clothe:
Newborns need cozy and comfortable clothing. Choose onesies made from soft, breathable fabrics like cotton. These are easy to put on and take off, making diaper changes a breeze. Stock up on sleepers and socks to keep your baby warm during sleep time. Remember, babies, grow quickly, so include a range of sizes in your baby kit to accommodate their growth.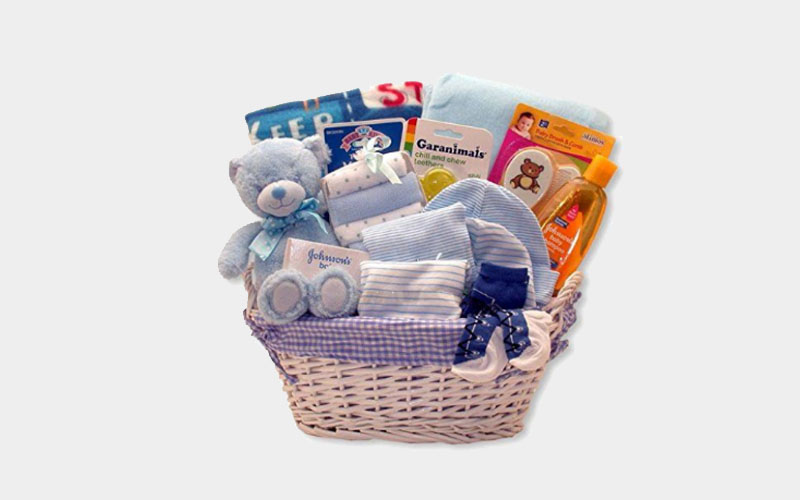 Sleep Essentials:
A safe and comfortable sleeping environment is essential for your baby's well-being. Invest in a crib with a firm mattress that fits snugly. Fitted sheets are a must to ensure your baby's safety. Lightweight blankets and sleep sacks can help regulate your baby's temperature while they sleep, ensuring a peaceful night's rest.
Feeding Supplies:
Whether you're breastfeeding or bottle-feeding, having the right feeding equipment is vital. For breastfeeding moms, a breast pump can be a game-changer, allowing you to express milk for later use. For bottle-feeding, choose bottles with slow-flow nipples to prevent overfeeding and reduce gas. A bottle sterilizer will help you keep feeding equipment clean and hygienic.
Bath Time Bliss:
Bath time is a special bonding experience. Ensure your baby's safety and comfort with a baby bathtub that provides the right support. Use gentle baby soap and shampoo to keep their delicate skin clean. Soft washcloths are perfect for a soothing wash, and a hooded towel will keep your baby warm and cozy after bath time.
Health and Safety Must-Haves:
Your baby's health and safety are of utmost importance. Include a reliable baby thermometer in your kit to monitor their temperature. Baby nail clippers with rounded edges will help you keep their tiny nails neat and trim. A nasal aspirator is handy for clearing blocked noses, and baby-safe sunscreen will protect their delicate skin during outdoor adventures.
On-the-Go Gear:
As you venture out with your newborn, having the right gear is essential. A lightweight and easy-to-fold stroller will make outings more convenient. A comfortable and secure car seat is a must for safe travel. Don't forget a spacious diaper bag to carry all your baby essentials while you're on the move.
Engaging Playtime:
Stimulate your baby's senses and encourage their development with age-appropriate toys. Soft rattles, colorful teething toys, and high-contrast books are wonderful additions to your baby kit. These toys will provide entertainment and aid in your baby's growth and exploration.
Conclusion:
Building the best baby kit for your newborn involves careful consideration of their comfort, safety, and developmental needs. By including essential items like diapers, cozy clothing, a safe sleeping environment, feeding equipment, bath supplies, health, and safety tools, on-the-go gear, engaging toys, and a camera, you'll be well-prepared to embark on the beautiful journey of parenthood. Remember, a well-prepared baby kit not only ensures your baby's well-being but also provides you with peace of mind as you cherish every precious moment with your little one.