Summer days are coming, and with them, the desire to enjoy a beach or a pool also appears. However, the tour can be a little more complicated when you have a baby at home.
It's normal not to know what it takes to spend a day at the beach or pool with your child. Many moms and dads need help deciding what to pack in their baby's beach bag.
With that in mind, we have prepared a selection of beach essentials for baby and toddler while at the beach or the pool, including protection from the sun, hygiene, and food.
It is important to be aware that a baby's skin is sensitive and, therefore, cannot be exposed to direct sunlight and needs to be hydrated and protected at all times.
Scroll down to search and check out baby beach must haves from our list!
List of the baby beach must haves to buy
There's nothing better than enjoying relaxed family moments, right? Even more so if you go to the beach with the little ones, enjoying the holidays or the weekend in the sun with lots of joy and fun.
That's why we made this post, to help you make a list of things to take to the beach with kids (and babies), with baby beach must haves, toys, and everything to enjoy without worrying.
Take the pen and checklist with us!
The very first extremely important item is to maintain the hygiene and health of babies with disposable diapers. For both the beach and the pool, it's important to take more than you're used to.
If not, the trip will not be pleasant and the baby may have diaper rash. So, choose this Papmers comfortable diaper to enter the pool or the sea.
You don't need to lay the baby down to ensure the diaper was put on correctly, and the diapers come with a sticky tab so that you can roll them up to throw them away.
| Most liked feature | What I didn't like |
| --- | --- |
| Trustworthy brand | Overly scented |
| Clinically proven for sensitive skin | |
| Hypoallergenic & absorbent material | |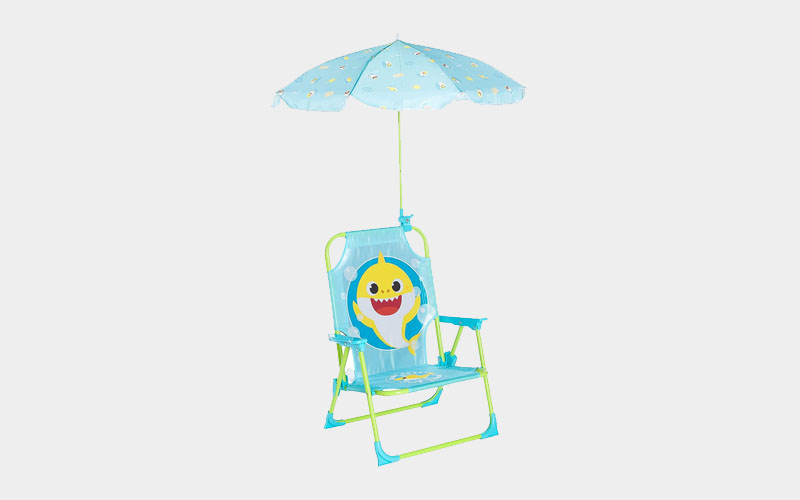 Don't forget to take this baby beach chair in your luggage. A clip-on umbrella protects your child from the sun when clipped to the back of the chair.
Leave electronics, such as cell phones and tablets, at home and encourage the little ones to play in the sand, be creative and develop contact with nature.
The chair is lightweight and durable, making it ideal for kids ages 2-7 when their feet touch the ground while seated.
| Most liked feature | What I didn't like |
| --- | --- |
| Comfortable | Not valuable to use for years |
| Easy to fold | |
| Cute baby shark design | |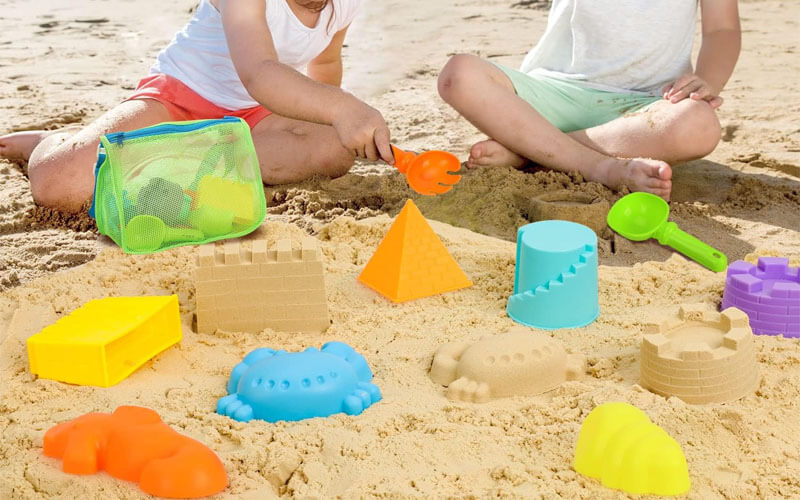 Of course, toys cannot be left out of the day at the beach with a baby. After all, playing is the best way to ensure more fun at all times.
To make everything more practical, choose toys that can come into contact with water and sand. This purse or bucket with accessories, for example, is perfect for the baby to have a sensory experience with beach sand.
The very best thing is, if anything happens to your beach sand toys set within the first 12 months of owning them, the store will replace it at no charge to you.
| Most liked feature | What I didn't like |
| --- | --- |
| Safe for kids | Picture items seem bigger |
| Build a sensory experience | |
| Great for sand play | |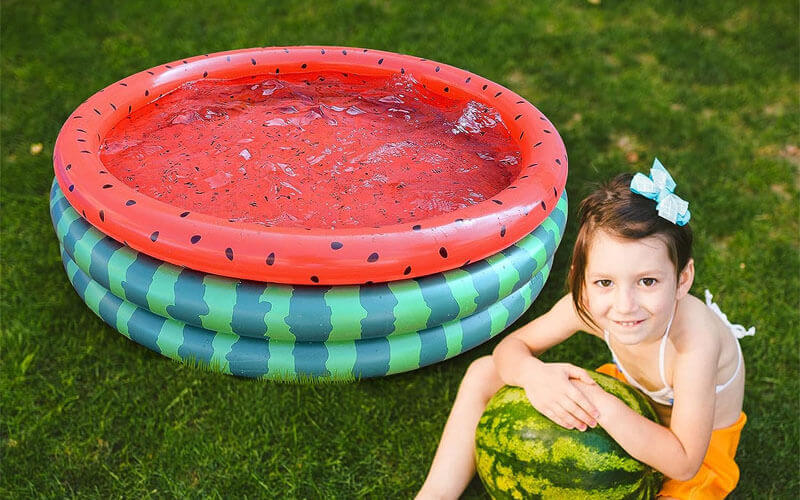 The baby's first time at the beach is a new experience, so the little one may want to explore the surroundings, especially if he wants to flutter in the water, this cute pool will be the best option.
It helps baby to stay close and lets him enjoy the new environment. It's amazing how this pool keeps the kids entertained for an hour, playing in the water without wanting to come out.
It's big enough for your two or three kids to play in and eat watermelon on the beach while enjoying the summer.
| Most liked feature | What I didn't like |
| --- | --- |
| Best swimming pool | Not ideal to use for a long time |
| Enough space to play | |
| Durable material | |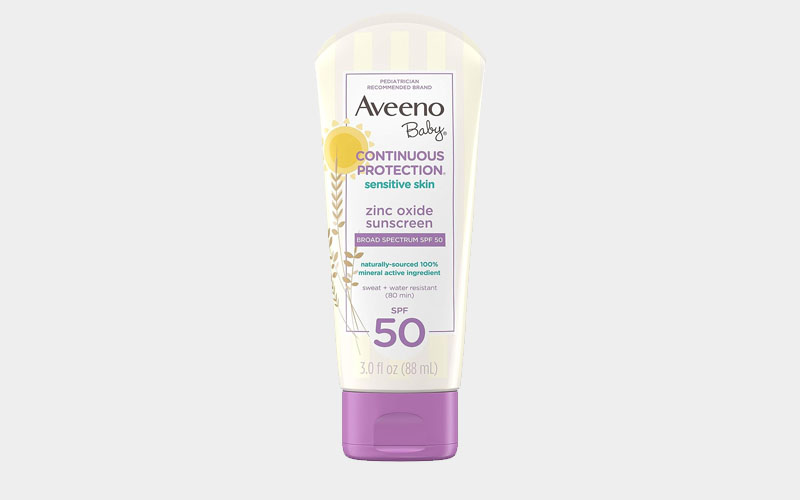 The first care for a baby on the beach is the use of sunscreen. By the way, this is a recommendation for all ages. This oat-based sunscreen lotion soothes sensitive skin while providing broad spectrum protection with SPF 50.
Your baby needs this product, since the skin is thin, being susceptible to ultraviolet radiation (UV), extremely high at this place. So, for your baby's first time at the beach, invest in a good sunscreen.
It is worth studying the best options, and there are some especially suitable for little ones. Apply a generous layer and don't forget to reinforce it after 30 minutes or when the baby gets wet.
| Most liked feature | What I didn't like |
| --- | --- |
| Sun protection | Good but leaves a white cast |
| Easy to apply | |
| Ideal for babies with sensitive skin | |
First time at the beach – What age is recommended?
For those who have doubts about the recommended age to take the baby to the beach, the recommendation is from 6 months of life, when sunscreen is already allowed.
Before that time of life, it is not recommended to use sunscreen, so going to the beach with a baby is also not recommended, as the child may suffer burns or sunstroke from not using sunscreen.
Going to the beach after 6 months is also recommended, as the child already has more immunity.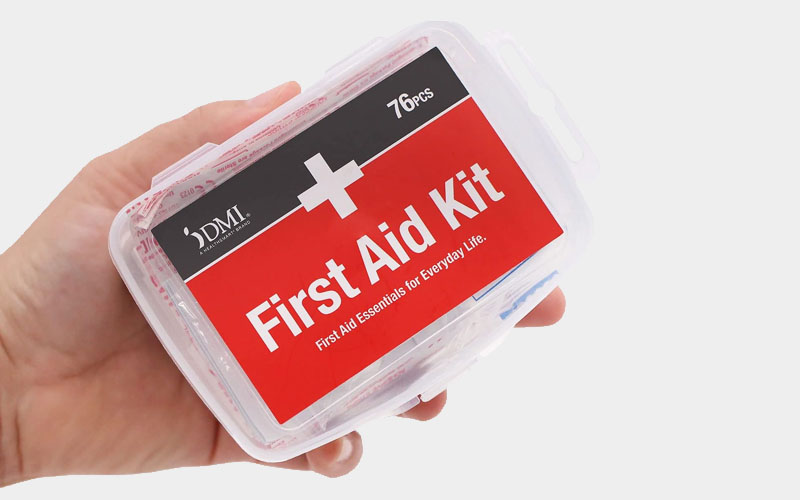 To enjoy the beach without worries, it is essential to have an all-purpose use for babies – especially when the kids are in growing age and the little ones are more active and sharp.
This is an excellent first aid kit to keep in the car, casual camping backpack, diaper bag, or wherever it is in quick reach when a scrape or cut happens.
Also, you can't predict what a baby might feel on the beach, can you? Therefore, if possible, consult a pediatrician before traveling to understand which medications to take.
| Most liked feature | What I didn't like |
| --- | --- |
| Value for money | No con found |
| Best for travelling | |
| Everything you need in a first aid kit | |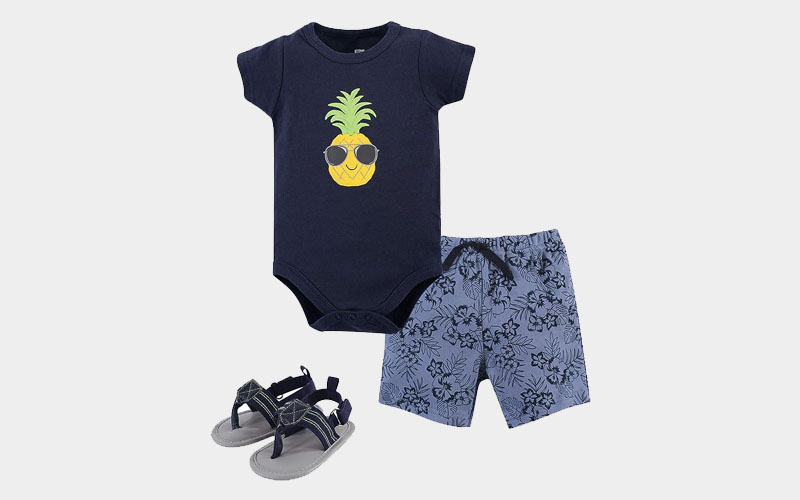 Baby swimwear is essential for the first trip to the beach. It's worth betting on pieces that have UV protection. The cool thing is that they can come into contact with the water, part of the experience of a baby's first time at the beach.
The main objective of the Hudson bodysuit is to make the baby comfortable. After all, it is an unprecedented experience for him, and comfort helps to soften this novelty.
Your beach trip without comfortable shoes is not enough, right? These flip-flops are available in this set and are great for your baby to enjoy the day without hurting their little feet.
| Most liked feature | What I didn't like |
| --- | --- |
| Excellent summer gift for babies | Some reviews make bad claims about shoes size |
| Comfortable to wear | Shrinks and fades on the first wash |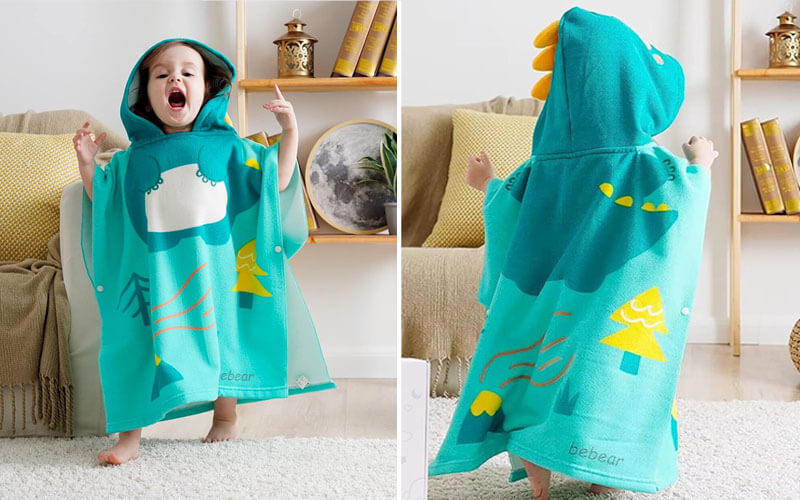 Anyone with a baby or small child knows they don't stop still when they come out of the water! Unlike a normal basic towel, this hooded towel is soft, and b baby will fall asleep on it! Whether he spends time at the beach, in the pool, in the park, or the tub.
And if you still have to carry a lot of things (as is common when going to the beach), the last thing you can do is take the baby home tightly wrapped in a towel.
Awww, the baby looks so cute in the towel! That's why we love bathrobes – they are super practical and can even be used in swimming lessons.
| Most liked feature | What I didn't like |
| --- | --- |
| Effective absorbency | Not made of organic cotton |
| Soft material | |
| Wearable towel | |
Conclusion
Ufa! It's a lot, we know!
But it's true that it's much better to have more than not enough. Going to the beach with a child may seem like fun on Instagram, but in real life you need to be prepared.
To ensure the peace of mind of the parents and the children's comfort, the ideal is to start planning what to take as soon as possible, not forgetting anything important.
With time everything becomes simpler, and they gain more independence to make their backpacks. We hope this helps, and we wish you happy holidays!