Easter brings a unique and very special meaning for each family, but as a whole, it reflects love, happiness, and togetherness. And, of course, Easter is also a lot of fun for our little ones, and our role is to get in on the wave!
Whether going to brunch, an egg hunt, or just staying home for Easter, you'll want to ensure your baby's outfit is good for any photographic moments. 
This could refer to a cute floral outfit or a bunny-print onesie. 
We've found baby and child Easter outfits that will catch your eye, no matter your style. We're sure any of these choices for little boys and girls will make your child look egg-cellent.
Adorable baby girl Easter outfits
Your little one is a precious gift from God, and this Easter, let us help her be adorned in the purest beauty.
Symbolizing a fresh chapter in your newborn's life, these outfits are filled with love, blessings, and endless cuddles, just like spring.
Dress your baby girl in this outfit for Easter photoshoots and special occasions. Your little princess will joyfully twirl in this layered tulle tutu princess Easter outfit. 
This beautiful frock creates a dreamy and whimsical look, while the included flower headband adds a charming touch. 
It has an elastic Shoulder strap that can fit baby girls perfectly. Additionally, it comes with a headband made of 5 different artificial flowers that is very pretty for a baby.
| Most liked feature | What I didn't like |
| --- | --- |
| Available sizes from 6 months to 3-year baby girl | Some customers said flower handband not included |
| Elastic and flexible shoulders | |
| Beautiful outfit for spring | |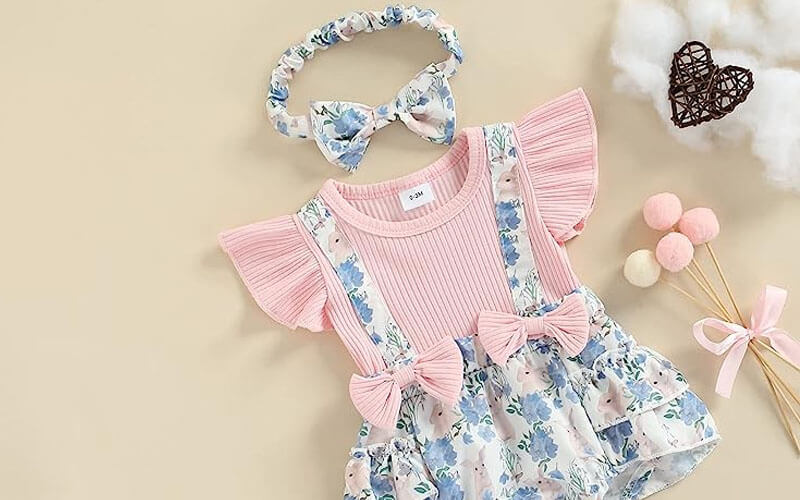 It is the time of year when freshness is welcomed with beauty, so your little tot should not be last in this race of special Easter attire.
The Socutebabe outfit is versatile and available in sizes 0 to 18 months. Your little girl will stay comfortable all day in this soft, breathable fabric while the cute headband completes the look.
Made with soft, lightweight, and breathable fabric,  comes with the matching bonnet completes the outfit with a sweet and traditional touch.
| Most liked feature | What I didn't like |
| --- | --- |
| Lightweight | Elastic in the bow may break after the first wash |
| Breathable | |
| Babies skin friendly | |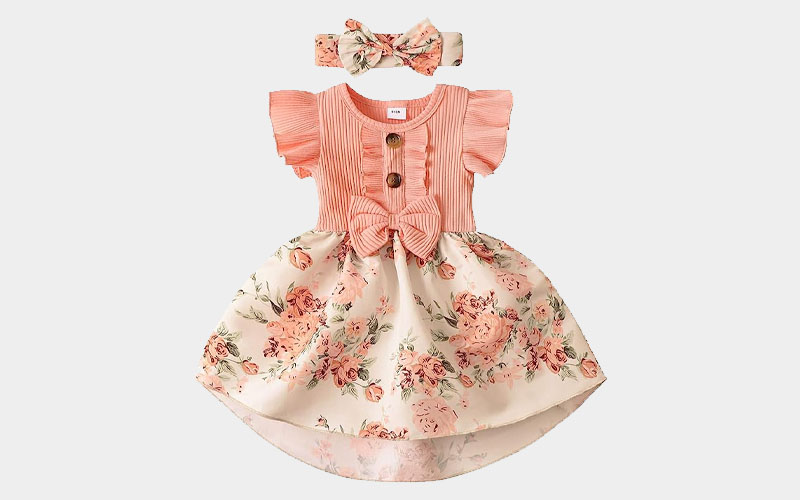 Awww, don't miss this cute floral dress for your little pie's first Easter. This is a must-have baby girl easter dress for 0-3 months old.
 It's made of super comfy and skin-friendly fabric, which makes it perfect for summer, fall, and spring. Plus, it reduces irritation and makes dressing up a breeze.
This 2 pcs dress, available in vibrant colors, will make your baby more attractive and adorable.
| Most liked feature | What I didn't like |
| --- | --- |
| Made of 90% cotton and spandex | The waistband could be a bit loose for 3 months |
| Comfortable to wear all day long | |
| Available in different colors | |
Dress your little angel in this long sleeve floral Easter outfit and watch her bloom with cuteness. Its long sleeves provide warmth and comfort, while the charming floral accents make her springy.
The floral pattern at the bottom of the dress adds sweet flair to the skirt of this romper. It is ideal because it has a snap closure at the bottom for quick diaper changes.
Considering to be designed with a crew neck and adorned with delicate shoulder ruffles, this dress exudes delightfulness in a baby's Easter outfit.
| Most liked feature | What I didn't like |
| --- | --- |
| Ideal for baby photoshoots | Cute but too large |
| Comfortable | |
| Absolutely beautiful | |
Celebrate your baby girl's first Easter by dressing her in this adorable 4-piece floral outfit that reads "I'm new here." Remember to tag her in your social photos.
This baby girl easter bunny outfit is soft and comfortable, we are sure you can't resist more to see your baby in this lovely outfit.
This baby clothing is made from a gentle, lightweight fabric that offers a comfortable touch for baby girls, ensuring their ultimate coziness.
| Most liked feature | What I didn't like |
| --- | --- |
| Ideal gift | Hat is a little big to wear |
| Super cute | |
Transform your little ones into the cutest Easter bunnies with these matching outfits! 
This set contains fluffy tails and an adorable hat with bunny ears. Get ready for some heart-melting moments and capture memories that will last forever.
This beautifully packaged bunny set comes with a girl's romper with bunny ears in an Easter pattern to make your baby girl the cutest bunny in the Easter yard.
| Most liked feature | What I didn't like |
| --- | --- |
| Snap closure | Handwash only |
| Available in different colors | |
| Made of organic cotton and linen | |
Celebrate your little one's first Easter in style with this enchanting "My 1st Easter"baby girl easter outfit. 
This baby girl easter dress has delicate ruffles, pastel colors, and a cute bunny motif, perfectly capturing the joy and spirit of Easter.
Paired with the matching bonnet, your baby will steal the show and create unforgettable memories. This outfit ensures comfort and style, making it an ideal choice for your baby's first Easter celebration.
| Most liked feature | What I didn't like |
| --- | --- |
| Personalize for babies to celebrate 1st Easter | Maybe the glitter came off after washing |
| Adorable Easter outfit | |
| Comfortable to wear | |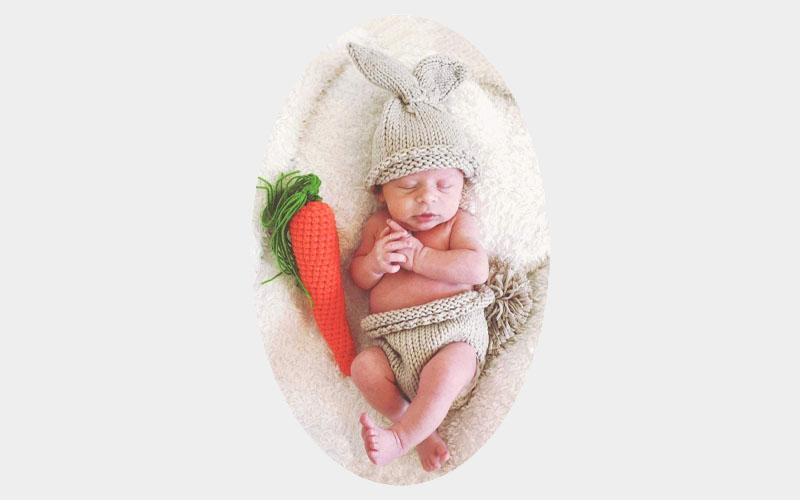 Create the heart-crushing look of your baby on her first Easter. This bunny outfit for baby girl is absolutely supreme from all options and ideal for photoshoots.
This delightful bunny outfit has intricate crochet work, imbuing it with a sense of enchantment and playfulness. Its gentle and cozy fabric ensures that your little one can wear it comfortably.
Whether it's a special family occasion or a delightful spring photo session, this dress is ideal for expressing your baby girl's cuteness.
| Most liked feature | What I didn't like |
| --- | --- |
| Ideal for professional photoshoots | No issue found |
| Comfortable and soft | |
| High quality material used | |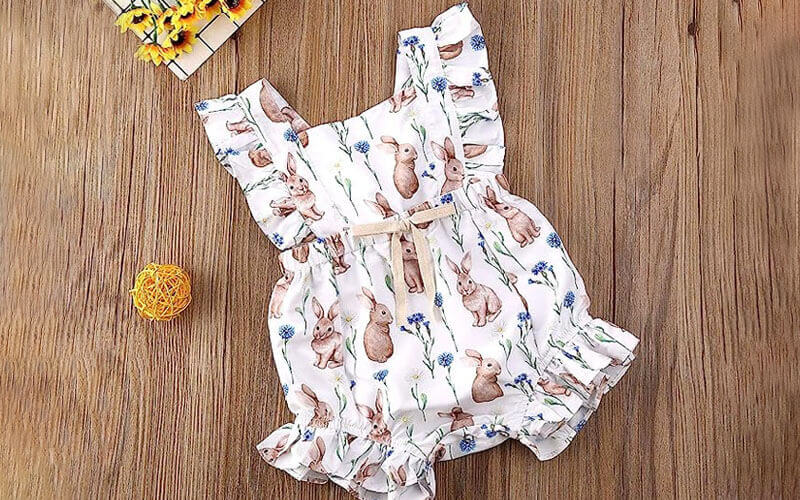 Easter is a time of new beginnings, and bunnies are often seen as symbols of life and growth. It is said that they give birth during this season, bringing forth new generations and hope for the future.
Babies like the idea of animals, so they certainly would love a dress with bunnies that make your baby girl more attractive and adorable. 
This baby romper is the ideal gift to buy for newborns. Available in a variety of different sizes you can also pair your baby with toddler dressing.
| Most liked feature | What I didn't like |
| --- | --- |
| Machine wash | No con found |
| Cotton blended | |
| A soft and comfortable outfit | |
Last thoughts!
Purchasing baby clothes for your little one who's recently outgrown the baby phase can be challenging. But it can also be fun as you head to the store and say that's exactly what I've been looking for. 
So here are a few things to consider when purchasing baby clothing:
👉 Choose the right fabric
👉 Consider the brand reviews
👉 Style much with the occasion 
👉 Comfort is the top priority
👉 Quality is everything
👉 Think longevity